Long Lasagna Roll-ups
Long Lasagna Roll-ups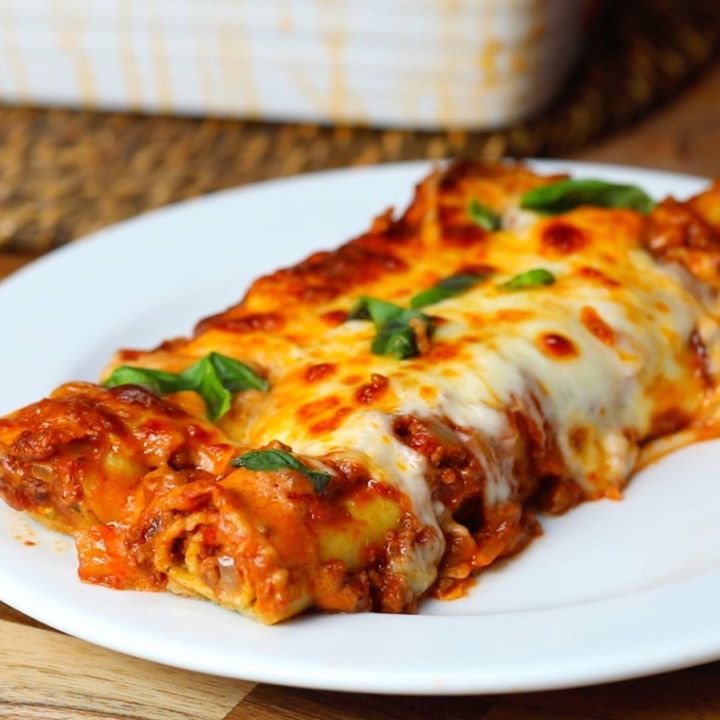 Ingredients
2 cups ricotta cheese
½ cup cooked spinach, drained
½ cup finely grated parmesan
½ tsp salt
½ tsp pepper
¼ tsp nutmeg
1 egg
6 Lasagna sheets
1½ cup bechamel sauce
2 cups ragu
9 slices mozzarella cheese
Basil
Instructions
Pre-heat oven to 180ºC (350ºF).
In a large bowl mix together ricotta, spinach, parmesan, egg, salt, pepper, and nutmeg until smooth. Lay out lasagna noodles and spread each with ricotta mixture. Roll each into a tight log.
Spread béchamel on the bottom of a baking dish. Lay each roll on the béchamel without touching each other.
Spread rage over top and lay mozzarella to cover.
Cover with parchment and foil and bake for 25 minutes until sauce is bubbly and noodles are cooked.
Remove foil and parchment and grill for 5 minutes until golden and bubbly.
Sprinkle with fresh basil. Enjoy!
Watch the recipe video here:
Long Lasagna Roll-ups

Posted by Twisted on Friday, January 5, 2018