Lemon and Raspberry Pound Cake
That time Valerie Bertinelli combined cheesecake and cherry pie to make one EPIC dessert ?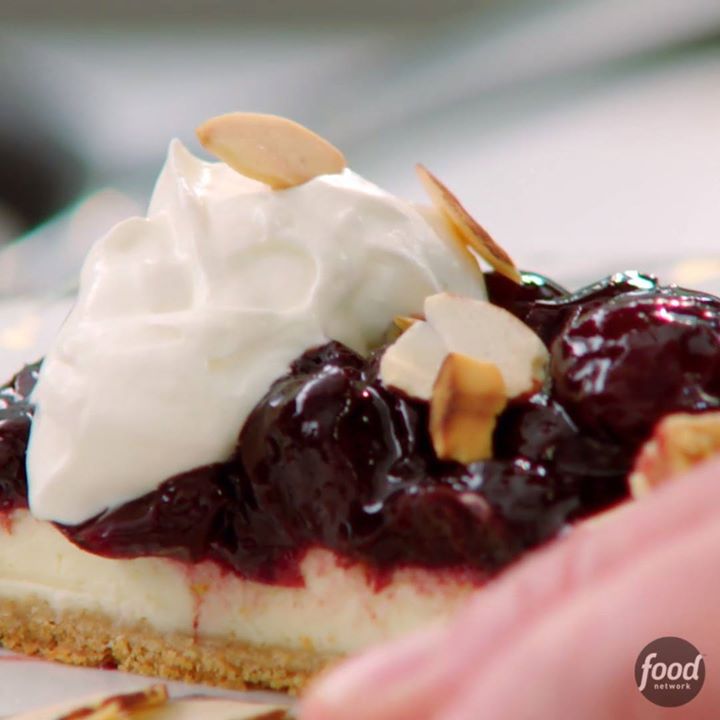 Ingredients
Pie Dough:
1⅓ cups all-purpose flour, plus more for dusting
1 cup almond flour
2 tablespoons granulated sugar
½ teaspoon ground cinnamon
½ teaspoon fine salt
1½ sticks cold unsalted butter, diced, plus more for the pan
4 tablespoons ice water, plus more if needed
Cheesecake Filling:
16 ounces cream cheese, softened at room temperature
⅔ cup granulated sugar
2 large eggs, lightly beaten
½ large lemon, zested and juiced
Cherry Compote:
2 pounds pitted fresh or thawed frozen cherries, with juices
¼ cup granulated sugar
1 vanilla bean, split
½ medium lemon, zested and juiced
Whipped Cream:
1 cup heavy cream
1 tablespoon confectioners' sugar
½ teaspoon lemon zest
½ cup sliced almonds
Instructions
Special equipment: a 12-by-1-inch pizza or tart pan with a removable bottom
For the pie dough:
Into the bowl of a food processor, add the all-purpose flour, almond flour, granulated sugar, cinnamon and salt. Pulse to combine. Add the butter and pulse until the dough becomes crumbly. Add the ice water 1 tablespoon at a time and pulse after each addition until the dough holds together but isn't wet. (Add additional tablespoons of water as needed.) Turn the dough out onto a floured work surface and form into a disk. Wrap in plastic and refrigerate for 30 minutes.
Position a rack in the center of the oven and preheat the oven to 350 degrees F. Butter and flour a 12-by-1-inch pizza or tart pan with a removable bottom.
Remove the dough from the refrigerator. Flour a rolling pin and work surface. Roll the pie dough, starting from the center and working outward, into a 14-inch circle, about ¼ inch thick. Lay the dough in the prepared pan and press it into the bottom and sides. Fold the excess dough inward and crimp. Dock the dough with a fork.
Put a piece of parchment paper on top of the dough and weigh it down with pie weights, a butter knife or dried beans. Blind-bake on the center rack of the oven until the crust is pale golden and just firm, about 20 minutes. Set aside to cool.
For the cheesecake filling:
In a medium mixing bowl, whisk together the cream cheese, granulated sugar, eggs and lemon zest and juice. Pour into the cooled pie crust and spread evenly with an offset spatula.
Bake until the cheesecake is set and the middle barely jiggles, 50 to 60 minutes. Set aside to cool.
For the cherry compote:
Combine the cherries with their juices, granulated sugar, vanilla bean and lemon zest and juice in a medium saucepan over medium heat. Cook until the compote is thickened and syrupy, about 20 minutes. Let cool to room temperature, about 20 minutes.
Pour the compote over the cooled cheesecake filling, and spread evenly over the top.
For the whipped cream:
In a large mixing bowl using a hand mixer or whisk, or in the bowl of a stand mixer fitted with the whisk attachment, whip the heavy cream, confectioners' sugar and lemon zest until medium to firm peaks form.
In a medium skillet over medium heat, toast the almonds, stirring frequently, until golden brown, about 5 minutes. Set aside to cool.
To serve the cheesecake pizza pie, top each slice with whipped cream and toasted almonds. Enjoy!
Watch the recipe video here: