BELL PEPPER AND POTATO FRITTATA
Egg frittatas are my answer to an easy, inexpensive meal solution whether I'm having it for breakfast, lunch or dinner. I made these with bell pepper and potato and served with a side of berries or fruit. For dinner, I serve with a salad on the side and call it a meal!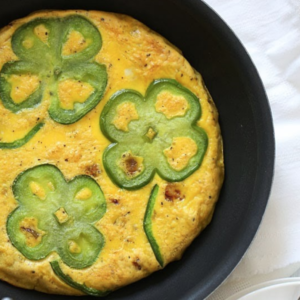 Ingredients
4 thin slices green bell pepper, sliced into ¼-inch thin slices crosswise
4 large eggs
4 large egg whites
kosher salt and pepper, to taste
1 teaspoon olive oil
¼ cup minced shallots
1 7 oz medium peeled Yukon Gold Potatoes, diced into ½-inch pieces
¼ tsp garlic powder
¼ tsp paprika
Instructions
Preheat the oven to 400°F.
Crack the eggs and egg whites into a large bowl. Add salt and fresh cracked pepper and beat until blended.
Heat a 10-inch nonstick oven safe skillet over medium heat. Add the oil and shallots to the pan and cook until golden, 2 to 3 minutes.
Add the potatoes, season with salt, garlic powder, paprika and black pepper. Cover and cook the potatoes over medium-low heat, stirring occasionally, until crisp and tender, about 12 to 15 minutes.
Pour the egg mixture into the skillet. Carefully arrange the bell peppers on top to create a shamrock pattern if desired. Reduce the heat to low and cook until the edges are set, 6 to 8 minutes.
Transfer the skillet to the oven and bake until the frittata is completely set and cooked through, 8 to 10 minutes.
Remove from the oven and transfer onto a large plate. Cut into 4 wedges and serve.
Watch the recipe video here: