Spicy Bacon-Wrapped Scallops
I like my bacon-wrapped scallops a little spicy, so I added a kick to them. I often prepare these for my husband for our date nights and serve them with steak.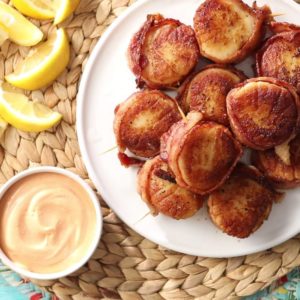 Ingredients
10 slices bacon
10 sea scallops
1 teaspoon Cajun seasoning
1 tablespoon olive oil
1 lemon, cut into wedges
Instructions
Arrange bacon in a large skillet and cook over medium-high heat, turning occasionally, until lightly browned but still pliable, about 5 minutes. Drain the bacon slices on paper towels.
Wrap each slice of bacon around one sea scallop and secure with a toothpick. Season with Cajun seasoning.
Heat olive oil in a clean skillet over medium-high heat; sear scallops until golden and bacon is crisp, 3 to 4 minutes on each side. Squeeze lemon over scallops. Serve immediately.
Watch the recipe video here: