Steak with Lemon Butter and Jammy Lemon Halves
Often only the rind of preserved lemons gets used, but we've learned that the flesh is just as good—as long as you remove the seeds.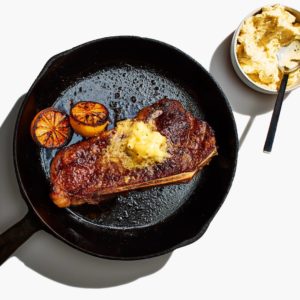 Ingredients
Lemon Butter
½ preserved lemon, seeds removed, finely chopped
½ cup (1 stick) unsalted butter, room temperature
1 teaspoon finely grated lemon zest
1 teaspoon kosher salt
½ teaspoon freshly ground black pepper
2 tablespoons fresh lemon juice
Steak and Assembly
2 1¼–1½-inch-thick bone-in New York strip steaks (about 3 pounds total)
1 tablespoon vegetable oil
Kosher salt
1 lemon, halved
Instructions
Lemon Butter
Process preserved lemon, butter, lemon zest, salt, and pepper in a food processor, scraping down sides as needed, until smooth. (Alternatively, you can whisk together in a large bowl.) With motor running, add lemon juice in a steady stream. Process until completely incorporated.
If not using right away, transfer lemon butter to a sheet of parchment paper and roll into a cylinder. Or scoop it into a small bowl and cover.
Do Ahead:
Lemon butter can be made 3 days ahead. Chill.
Steak and Assembly
Let steaks sit at room temperature about 1 hour before cooking.
Preheat oven to 350°. Heat oil in a large ovenproof skillet over medium-high. Season steaks with salt. Add steaks to skillet and arrange lemon halves, cut side down, around. Cook, turning steaks every 2 minutes or so, until steaks are well browned and cut sides of lemon are very dark, 6–8 minutes. Transfer lemon halves to a plate.
Place skillet in oven and roast steaks until an instant-read thermometer inserted into the thickest part registers 120°, about 4 minutes. Transfer steaks to a wire rack set inside a rimmed baking sheet and top with some lemon butter. Let steaks rest at least 10 minutes before slicing.
Top steaks with more butter and serve with cooked lemon halves for squeezing over.
Watch the recipe video here: