Spinach Pesto Pasta
You'll be eating pasta before you can say presto.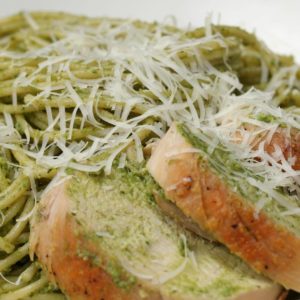 Ingredients
Pesto
4 cups spinach
½ cup walnuts
4 garlic cloves
¼ cup parmesan cheese
½ teaspoon salt
½ teaspoon pepper
1 teaspoon lemon juice
½ cup olive oil
1 chicken breast
Salt, to taste
Pepper, to taste
8 ounces spaghetti
Instructions
In a food processor, add all ingredients to make pesto and blend until walnuts are finely blended.
In a hot pan, add olive oil and cook chicken breast. Salt and pepper to taste.
Cook the spaghetti or your choice of pasta.
Combine the chicken and sauce into spaghetti and mix until the sauce fully coats the pasta.
Top it off with parmesan cheese and enjoy!
Watch the recipe video here: