Pancake Au Gratin
Savory pancakes filled with beef and onions are topped with even more meat and covered in a blanket of mozzarella cheese.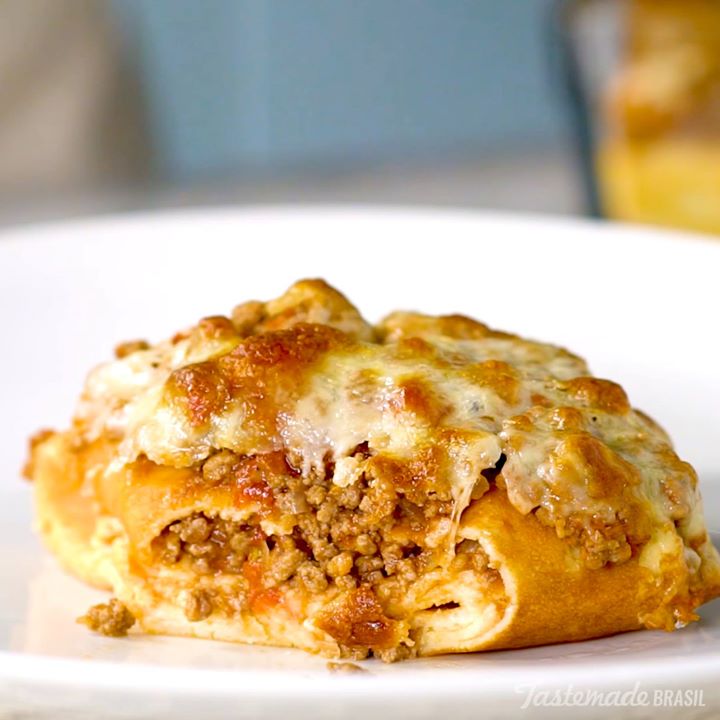 Ingredients
1 onion, cut into cubes
1 clove garlic
1½ pounds ground beef
Salt
Black pepper
3 tablespoons tomato paste
1 can peeled tomatoes
Basil leaves
½ cup water
2 eggs
1¼ cups milk
1 tablespoon olive oil
1 cup wheat flour
5 ounces sliced mozzarella cheese
Instructions
In a saucepan, sauté the onion and garlic. Add the ground beef and mix thoroughly. Season with salt and black pepper. Add the tomato paste, peeled tomatoes, basil leaves and water. Cook for 10 minutes, or until a thick sauce is obtained. Set aside.
In a blender, add the eggs, milk, olive oil, flour and a pinch of salt. Blend until combined.
Heat and grease a large round griddle pan. Pour in a thin layer of dough. Cook until done, flipping halfway through so that both sides are golden brown. Repeat with remaining dough.
Lay out one pancake on a flat surface. Place about 2 tablespoons of the meat mixture in the center, and fold into a square. Repeat with remaining dough.
Transfer pancakes to a baking dish, top with remaining meat mixture and cover with slices of cheese.
Bake at 350 degrees for approximately 20 minutes, or until cheese is au gratin.
Watch the recipe video here:
Lay your head down on this pancake pillow stuffed with beef & onions, and topped with melted mozzarella. Save this recipe: https://taste.md/2w7NiqK?: Tastemade Brasil

Posted by Tastemade on Monday, March 5, 2018