Garlic Bread Bowl with Spaghetti
Get this: a garlic bread bowl... with spaghetti... Did we just break your brain, bro?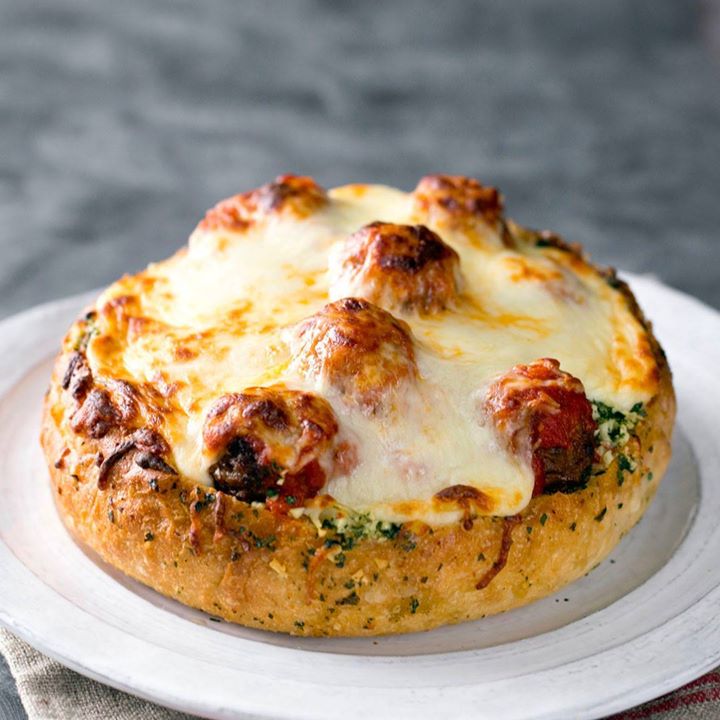 Ingredients
1 large sourdough loaf
1 cup butter, melted
4 tablespoons chopped parsley
4 cloves minced garlic
¼ cup grated Parmesan cheese
2 teaspoons salt, divided
2 tablespoons olive oil
2 cups marinara sauce, warmed
1 cup spaghetti, cooked
1 pound ground beef
1 pound ground pork
2 large eggs
2 tablespoons finely chopped parsley
2 cloves garlic, minced
1 teaspoon salt
½ teaspoon pepper
2 cups breadcrumbs
Instructions
Make the garlic bread bowl: Preheat the oven to 375, and line two baking sheets with parchment paper.
In a small bowl, combine butter, parsley, garlic, Parmesan and salt. Set aside while you prepare the bread loaf.
Cut the top third off the loaf. Cut slits in the loaf, approximately 3 lengthwise and 5 widthwise, taking care to not cut all the way through to the bottom. Carve out the inside of the bottom loaf, leaving less than an inch border around the sides. Save the filling for breadcrumbs for the meatballs. Brush the top (which should now look like fifteen ½-inch rectangles) with half of the butter mixture. Brush the inside of the bowl with the remaining butter mixture, and bake both for 10 to 12 minutes until golden and fragrant. Wrap the bowl and top in foil to keep warm while you make the filling.
Make the breadcrumbs: In a medium bowl, break up the remaining loaf insides into small ½-inch pieces. Add olive oil and remaining salt and toss to coat. Spread the pieces on the other baking sheet and bake for 25 to 30 minutes until dried out and golden. Once cooled, grind crumbs into fine pieces resembling coarse sand.
Make the meatballs: Preheat the oven to 400 degrees, and line a baking sheet with parchment.
In a medium bowl, add ground beef, pork, eggs, parsley and garlic. Mix to combine, and add salt and pepper. Fold in breadcrumbs and roll into approximately twenty 2-inch meatballs. Evenly space the meatballs out on the prepared baking sheet and bake for 10 to 12 minutes until the center temperature reads 150 degrees.
Assemble the garlic bread bowl: Preheat the oven to broil, and line a baking sheet with parchment paper. Fill the garlic bread bowl halfway with warmed marinara sauce. Place prepared spaghetti and meatballs inside, and top with remaining marinara. Top the bowl with shredded mozzarella. Place in oven alongside the top of the bread bowl and broil for 5 minutes until cheese bubbles and turns golden. Remove from the oven and serve immediately.
Watch the recipe video here: