S'mores Egg Rolls
Campfire not included.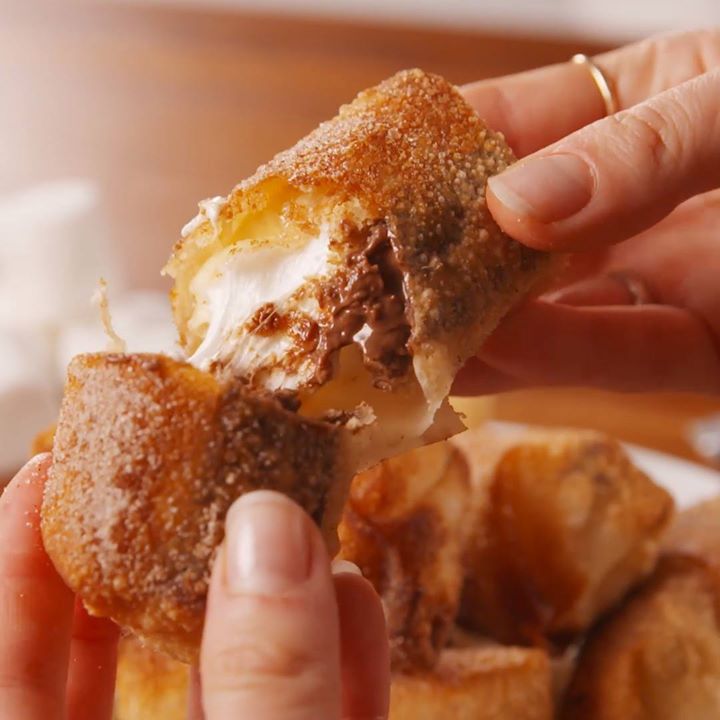 Ingredients
12 egg roll wrappers
2 bars Hershey's Chocolate
4 graham crackers, crushed
24 marshmallows
Vegetable oil, for frying
¼ c. cinnamon-sugar
Melted chocolate, for dipping (optional)
Instructions
Place an egg roll wrapper on a clean surface in a diamond shape and place 2 pieces chocolate, about 1 tablespoon of graham crackers crumbs, and 2 marshmallows.
Fold up bottom half and tightly fold in sides. Gently roll, then seal fold with a couple drops of water. Repeat until all egg roll wrappers are used.
In a large skillet over medium heat, heat oil (it should reach 1" up the side of pan) until it starts to bubble. Add egg rolls and fry until golden, 1 minute per side. Transfer to a paper towel-lined plate and season with cinnamon sugar immediately.
Serve with melted chocolate, if using.
Watch the recipe video here:
You've NEVER seen S'mores like this… ?Full recipe: http://dlsh.it/5ZFm9mE

Posted by Delish on Sunday, March 11, 2018