Pizza Dip Three Ways
Perfect for serving during the big game, this pizza dip will satisfy all your friends, is endlessly customizable -- and it's fun to eat, too.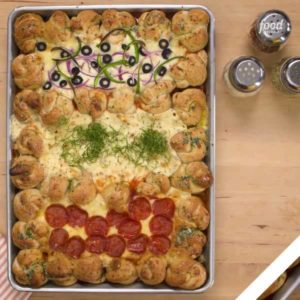 Ingredients
All-purpose flour, for dusting
Three 1-pound balls pizza dough
6 tablespoons unsalted butter, melted
6 tablespoons extra-virgin olive oil
¼ cup minced fresh parsley
1 teaspoon garlic powder
6 cloves garlic, minced
Kosher salt
½ cup plus 2 tablespoons grated Parmesan
8 ounces cream cheese
1 cup whole milk ricotta
½ cup heavy cream
1 teaspoon crushed red pepper flakes
One 8-ounce bag shredded mozzarella
2 cups jarred marinara sauce
1 cup mini pepperoni
½ green bell pepper, cut into matchsticks
½ red onion, cut into matchsticks
¼ cup sliced black olives
4 leaves fresh basil, sliced thinly
Instructions
Preheat the oven to 375 degrees F.
Dust a work surface with flour to keep the dough from sticking. Divide each dough ball into 12 equal-size pieces. Roll each piece into an 8-inch rope and twist into a knot. Arrange the knots around the edge of a 13-by-18-inch sheet pan, leaving ¼ inch between each. Use the remaining knots to form 2 lines to divide the pan into 3 sections widthwise. Cover the pan with a clean kitchen towel and let the dough rise, about 15 minutes.
Meanwhile, make the garlic oil. Combine the butter, olive oil, parsley, garlic powder, fresh garlic and 2 teaspoons salt in a medium bowl. Stir to combine.
Brush the knots with about ¼ cup of the garlic oil and sprinkle with 2 tablespoons Parmesan. Bake until just starting to brown, about 20 minutes. (The knots won't be fully baked.) Reduce the oven temperature to 350 degrees F.
Meanwhile, combine the cream cheese, ricotta, heavy cream, red pepper flakes, 1 cup mozzarella, the remaining ½ cup Parmesan and 6 tablespoons of the garlic oil in a large bowl. Beat with an electric mixer until fluffy and combined, about 3 minutes.
Make the dips in the pan of half-baked knots. Divide the marinara sauce evenly between the far left and far right sections. Sprinkle half of the pepperoni over the right-hand section. Sprinkle half of the peppers and onions over the left-hand section. Then dollop and spread two-thirds of the ricotta mixture in the center section. Divide the remaining ricotta mixture between the right and left sections, dolloping it over the sauce and gently spreading with the back of a spoon or small offset spatula. Divide the remaining cup mozzarella between the far right and far left sections, sprinkling it on. Top the far right section with the remaining pepperoni and the far left section with the remaining peppers, onions and olives. Bake until the knots are golden and the dips are bubbling and lightly browned, 20 to 25 more minutes.
Brush the knots with the remaining garlic oil and sprinkle the fresh basil over the center section.
Watch the recipe video here: