Instant Pot Bacon BBQ Meatloaf and Mashed Potatoes
This one-pot meal is everything you need for a hearty dinner.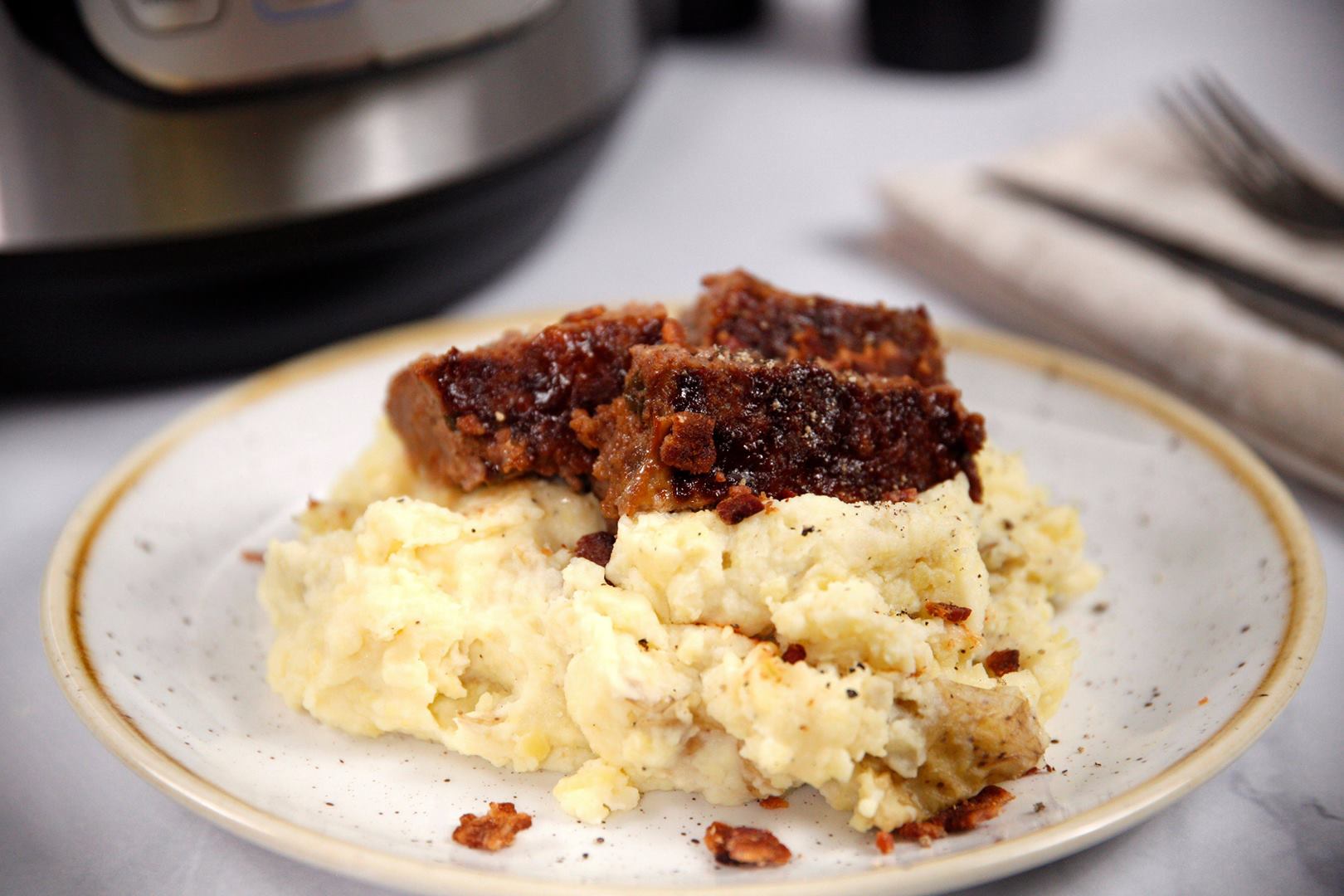 Ingredients
3 pounds yellow potatoes, skin on, quartered
1 cup chicken broth
1 bay leaf
Meatloaf Mixture:
1½ pounds ground beef (preferably 93% or leaner)
1 cup breadcrumbs
2 eggs, beaten
2 tbsp parsley, finely chopped (or 2 tsp dried)
2 tsp each garlic powder, onion powder
1 tsp each kosher salt, pepper
½ cup honey bbq sauce
4 pieces bacon, cooked and crumbled
To Finish:
¼ cup honey bbq sauce
1 cup half and half
4 tbsp butter
¾ cup sour cream
1 tsp garlic powder
Kosher salt and pepper to taste
Additional cooked and crumbled bacon for garnish
Instructions
Place potatoes in the bottom of the pot in an even layer. Add the bay leaf and chicken broth. Place the steam rack on top of the potatoes.
In a large bowl thoroughly combine the Meatloaf Mixture ingredients.
Gently press the meatloaf into a 6-cup bundt pan (we love this one: https://amzn.to/2RNympZ) and cover loosely with foil–do not seal.
Use a foil sling to lower the bundt pan on to the steam rack, then secure the lid, making sure the vent is closed.
Using the display panel select the MANUAL function*. Use the +/- keys and program the Instant Pot for 22 minutes.
When the time is up, quick-release the remaining pressure. Remove the bundt pan and brush the top with ¼ cup bbq sauce, then set under broiler for 5-7 minutes until sauce is bubbly and caramelized.
Meanwhile, remove bay leaf and add half-and-half, butter, garlic powder and salt and pepper to the pot. Mash to your desired texture.
Slice the meatloaf, top with additional crumbled bacon. Serve with the potatoes.
Watch the recipe video here:
This one-pot meal is everything you need for a hearty dinner. RECIPE: http://chopsecrets.com/instant-pot-bacon-bbq-meatloaf-and-mashed-potatoes/

Posted by Chop Secrets on Thursday, April 18, 2019