Boozy Rainbow Sherbet Punch
Boozy Rainbow Sherbet Punch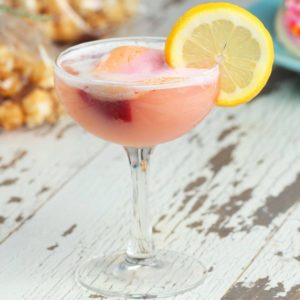 Ingredients
1 qt rainbow sherbet (945 mL)
1 cup strawberry, halved (150 g)
½ cup blueberry (50 g)
1 lemon, sliced
½ cup raspberry (60 g)
¼ grapefruit, sliced
3 cups lemon-lime soda (720 mL)
3 cups champagne, or lemon- or lime-flavored sparkling water (720 mL)
6 cups pink lemonade (1.4 L)
Instructions
Arrange 8 scoops of sherbet on a parchment paper-lined baking sheet. Freeze for 30 minutes.
In a large punch bowl, combine the strawberries, blueberries, lemon, raspberries, and grapefruit.
Add the lemon lime soda, champagne, and pink lemonade. Stir to combine.
Remove the sherbet scoops from the freezer and use a spoon to place in the punch bowl.
Enjoy!
Watch the recipe video here: