Watermelon Glass Jelly
These refreshing treats made with real watermelon and kiwis look elaborate but are surprisingly simple to make.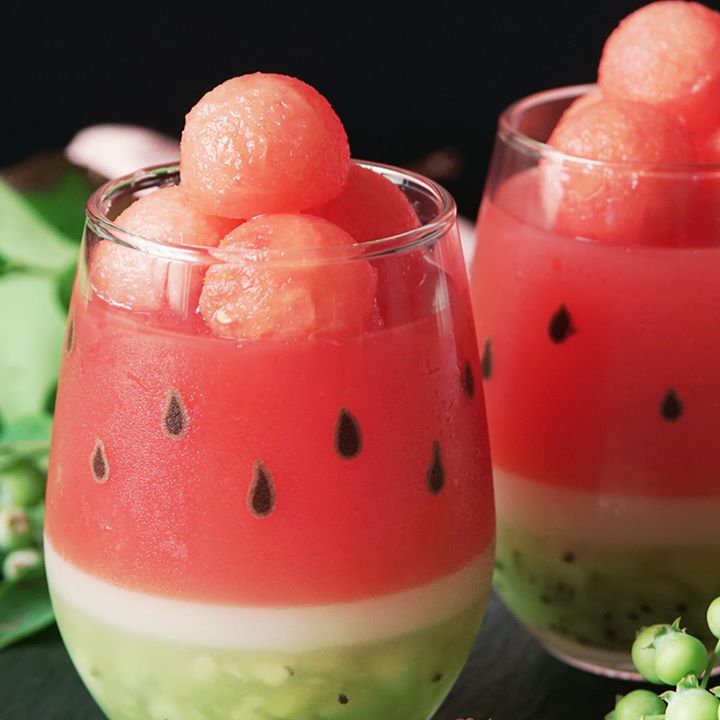 Ingredients
Green layer:
1 kiwi, cubed
1½ tablespoons granulated sugar
¼ cup water
1½ teaspoons gelatin, soaked 1½ tablespoons water
White layer:
¼ cup Calpis soda
½ teaspoon gelatin, soaked in 1 tablespoon water
Chocolate pen
Red layer:
½ miniature watermelon
2½ teaspoons gelatin, soaked in 2½ tablespoons water
Instructions
Using a melon baller, scoop about 8 balls out of the watermelon and set aside.
Remove the remaining watermelon flesh, add to a small bowl and set aside.
In a sauce pot over medium heat, add kiwi, water and sugar and bring to a simmer. Reduce heat to low and cook for 2 minutes then turn off heat. Stir in dissolved gelatin and mix well.
Pour a layer of kiwi jelly into each glass, and place glasses in refrigerator until layer is set.
In a small bowl, combine Calpis and gelatin and stir until combined. Pour a layer of this mixture on top of the green layer.
Using a chocolate pen or melted chocolate, draw seeds on the insides of the glasses. Place glasses in refrigerator until chocolate and white layer are set.
In a blender, add the watermelon and puree. Strain seeds out if necessary, and place watermelon into a bowl along with gelatin. Stir until combined. Pour a layer of watermelon mixture on top of the white layer. Place glasses back in the fridge until set.
Add watermelon balls on top of each glass, and enjoy!
Watch the recipe video here:
These jelly treats are one in a melon. via Tastemade JapanSave this Recipe: taste.md/2wStrZ6More recipes on our app ?: taste.md/2wStrZ6

Posted by Tastemade on Saturday, September 30, 2017