Instant Pot Fabulous French Onion Soup
This version of the classic is gorgeously cheesy with a silky texture.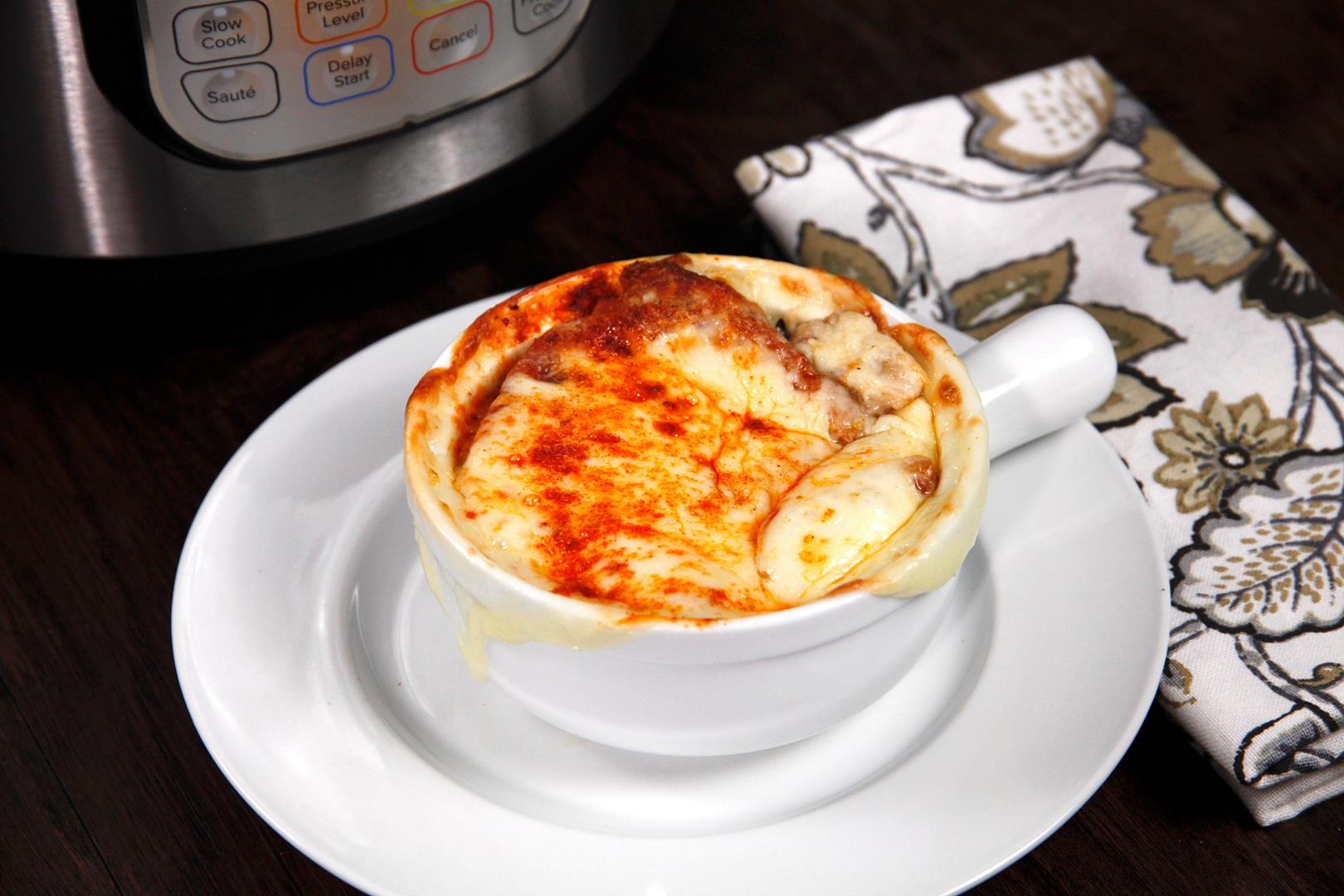 Ingredients
3 tbsp butter
1 tbsp oil
1 large yellow onion, quartered and sliced onion "quarter moon" shaped slices
4 smaller sweet onions, quartered and sliced onion "quarter moon" shaped slices
2 tsp brown sugar
3 sprigs fresh thyme
2 cloves garlic, minced
1 bay leaf
½ cup brandy
¾ cup red wine
4 cups beef broth, warmed
Salt and pepper to taste
4 thick slices of french bread, toasted (look for bread that is a big enough diameter to almost cover the opening of the crocks–or use croutons instead)
4 slices gruyere (or swiss) cheese
4 slices provolone cheese
Paprika for garnish
Instructions
Add butter and oil to the Instant Pot. Using the display panel select the SAUTE function.
When butter is melted, add onion, brown sugar, thyme, garlic and bay leaf to the pot.
Cook and stir for 10-15 minutes until onions have cooked down by half and have a pasta-like consistency.
Add brandy to the pot and deglaze by using a wooden spoon to scrape any brown bits from the bottom of the pot.
Continue to cook and stir until alcohol has cooked off, then add red wine and warmed broth to the pot and stir.
Turn the pot off by selecting CANCEL, then secure the lid, making sure the vent is closed.
Using the display panel select the MANUAL function*. Use the +/- keys and program the Instant Pot for 8 minutes.
When the time is up, quick-release the remaining pressure. Remove and discard thyme stems and bay leaf. Add salt and pepper to taste.
Ladle the soup into crocks, place a slice of bread on each crock and a slice of cheese on each piece of bread. Sprinkle with paprika.
Put crocks on a baking sheet lined with foil and set under the broiler until the top begins to bubble and brown, 5-7 minutes.
Watch the recipe video here:
This version of the classic is gorgeously cheesy with a silky texture.RECIPE: http://chopsecrets.com/instant-pot-fabulous-french-onion-soup/

Posted by Chop Secrets on Wednesday, May 29, 2019