Chicken Pot Hotdish
Tater tots + chicken pot pie? We're SO ready for Chicken Pot Hotdish.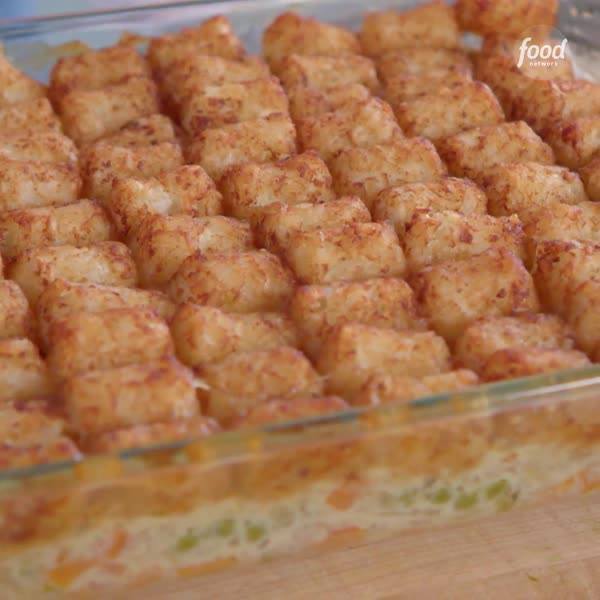 Ingredients
3 tablespoons unsalted butter
3 carrots, chopped into ½-inch pieces
1 large onion, finely chopped
Kosher salt
6 tablespoons all-purpose flour
3 cups whole milk
Chicken soup mix for 3 cups broth (about 1 tablespoon)
1½ pounds boneless, skinless chicken thighs, chopped into ½-by-3/4-inch pieces
¾ cup frozen peas
½ teaspoon dried thyme
Freshly ground black pepper
1½ pounds frozen tater tots
Ketchup, for serving, optional
Instructions
Preheat the oven to 400 degrees F.
In a large skillet over medium-high heat, melt the butter. Add the carrots, onion and a pinch of salt and cook, stirring, until soft, about 10 minutes. Stir in the flour until combined and then cook for 1 minute. Add half the milk and cook, whisking continuously, until thickened, about 5 minutes; repeat with the remaining milk. Stir in the chicken soup mix and then add the chicken, peas, thyme and a few turns of pepper. Simmer, stirring often, until the chicken is cooked through and no longer pink, 10 to 15 minutes. Taste the mixture and adjust the seasonings if desired.
Transfer the mixture to an 8-by-11-inch baking dish (or other 3-quart ovensafe dish) and then cover with the tater tots. Make them snuggly and neat. Bake until the tots are golden brown; begin checking for doneness at 30 minutes. Let cool slightly and serve with ketchup, if desired.
Watch the recipe video here: