Chewy Strawberry Sugar Cookies
We were given a lot of strawberries and I had to figure out what to do with them so they didn't go bad. So I came up with this recipe. I hope everyone likes it as much as my kids did. I prefer fresh strawberries over strawberry extract because it gives it a more fruitful flavor. But the extract is good as well. You decide.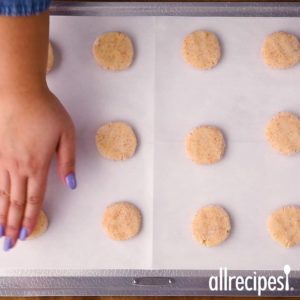 Ingredients
1½ cups white sugar
1 cup butter, softened
1 egg
3 tablespoons strawberry puree
2¾ cups all-purpose flour
1 teaspoon vanilla extract
½ teaspoon baking powder
½ teaspoon salt
½ cup white sugar
1 teaspoon red colored sugar (optional)
Instructions
Preheat oven to 350 degrees F (175 degrees C). Line a baking sheet with parchment paper.
Beat 1½ cups white sugar and butter together in a bowl with an electric mixer until creamy, about 3 minutes. Beat egg into butter mixture. Add strawberry puree.
Stir flour, vanilla extract, baking powder, and salt into strawberry mixture with a spoon until flour is completely incorporated into dough.
Stir ½ cup white sugar and red sugar together in a shallow bowl.
Roll dough into walnut-sized balls, roll each ball in red sugar mixture, and place each ball 1½ inches apart onto prepared baking sheets. Lightly press each dough ball down to flatten.
Bake cookies in the preheated oven until lightly browned, 10 to 15 minutes. Cool.
Watch the recipe video here: