Roasted Garlic and Four-Cheese Pull-Apart Bread
Pull-Apart Bread is loaded with roasted garlic and FOUR cheeses. (via The Pioneer Woman - Ree Drummond)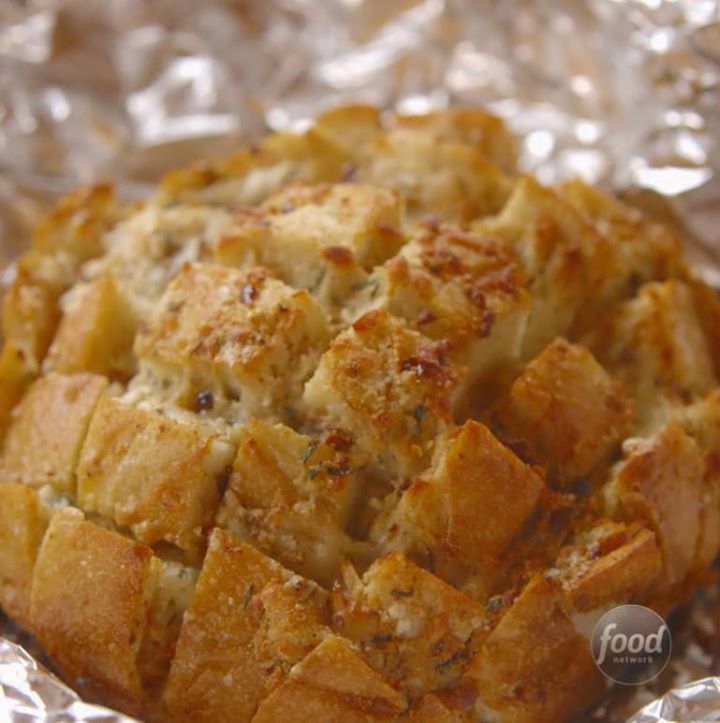 Ingredients
8 cloves garlic, peeled
2 tablespoons olive oil
Kosher salt and freshly ground black pepper
½ cup grated mozzarella
½ cup grated fontina
½ cup grated Parmesan
½ cup grated Romano
2 teaspoons chopped chives
½ teaspoon crushed red pepper flakes
1 round artisan or sourdough loaf
1 stick (1/2 cup) salted butter, melted
Instructions
Preheat the oven to 375 degrees F.
Put the garlic cloves on a square of heavy foil, drizzle with the olive oil and sprinkle on some salt and pepper. Wrap it up and bake until the garlic is golden, nutty and mushy, about 1 hour. Let cool. Lower the oven temperature to 350 degrees F.
Mix the garlic together with the 4 cheeses, chives, crushed red pepper flakes and some black pepper in a bowl.
Cut the bread in strips in one direction, being careful not to cut all the way through the loaf. Rotate the bread 90 degrees and cut in the other direction. Stuff the cheese mixture in between the rows. Drizzle the melted butter all over the top.
Wrap in foil and bake for 25 minutes. Open up the foil and bake until the cheese is hot and bubbly, another 10 minutes. Serve immediately.
Watch the recipe video here: