BAKED RATATOUILLE WITH HAVARTI CHEESE
Layers of eggplant, zucchini and squash are baked in a tomato sauce with bell peppers and herbs then topped with Havarti cheese. This is a great tasting meatless main dish.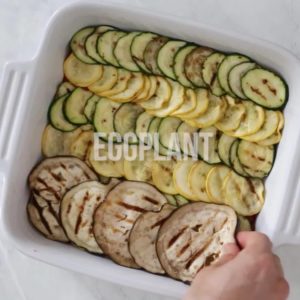 Ingredients
1 medium eggplant, sliced ⅛th inch thick
1 tsp kosher salt
1 tbsp olive oil
½ small onion, diced
3 garlic cloves, crushed
⅛ tsp cracked black pepper
2 cups crushed tomatoes
⅛ tsp red pepper flakes, optional
1 bay leaf
1 teaspoon fresh thyme
4 fresh basil leaves, finely chopped
1 small red bell pepper, diced
1 small yellow bell pepper, diced
1 small, 6 ounce zucchini, sliced ⅛th inch thick
1 smalll, 6 ounce yellow squash, sliced ⅛th inch thick
3 oz light Havarti cheese, shredded
Instructions
Preheat oven to 375F.
In a large non-stick skillet add olive oil and sauté onions and garlic 2-3 minutes. Add 1 tsp salt, black pepper, tomato sauce, red pepper flakes if using, bay leaf, thyme, basil, red and yellow bell pepper; sauté another 5-8 minutes on medium-low heat.
In a large nonstick grill pan, grill the zucchini and eggplant 2 to 3 minutes on each side.
Add 1 cup of the sauce to a casserole dish. Layer the eggplant, squash and the zucchini. Pour the remaining sauce over the top and top with the cheese. Cover with foil and bake 40 minutes.
Watch the recipe video here:
Baked Ratatouille with Havarti Cheese is layered with eggplant, zucchini, bell peppers and summer squash. 3 Freestyle…

Posted by Skinnytaste on Monday, July 15, 2019