WARBURTONS TOFFEE APPLE CRUMBLE CRUMPETS
Improving the ultimate dessert is never easy, but stuffing it on top of a crumpet isn't a bad place to start. Sticky, fruity and just as decadent as every good pud should be, these Toffee Apple Crumble Crumpets take the best of breakfast and make them sweeter than ever. Say hello to your new family favourite.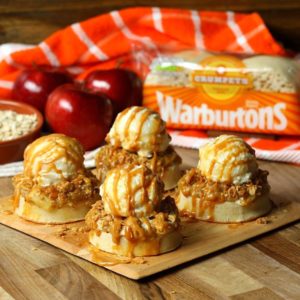 Ingredients
4 Warburtons crumpets
25g butter
50g sugar
4 cooking apples, peeled and cored and cut into chunks
30ml golden syrup
¼ tsp cinnamon
50g flour
40g cold butter, diced
25g oats
50g brown sugar
Vanilla ice cream, to serve
Caramel sauce, to serve
Instructions
Heat oven to 200C/400F.
Put the flour and butter into a large bowl. Rub together with your finger tips to break up the butter and mix it in with the flour, until the mixture looks like yellow breadcrumbs and is starting to clump together. Add the brown sugar and oats and bring together with your hands to combine.
Spread the mixture on a baking tray and bake for 15-20 mins, until the crumble is crisp and golden. Set aside to keep warm.
In a large saucepan, melt your butter. When it starts to foam, tip in the sugar. Cook on a low heat until the sugar starts to go a caramel colour. Add the apples, golden syrup and cinnamon then cook on a medium heat until the apples have softened and the sauce has thickened.
Toast your crumpets. Top with your toffee apple compote and your crumble. Top with ice cream and drizzle with caramel sauce.
Serve and enjoy!
Watch the recipe video here:
https://www.facebook.com/1045035215535674/posts/2311461335559716/