Huli Huli Chicken with Pineapple-Ginger Sauce
"Huli" is a Hawaiian word that means to turn over. Traditional versions of this dish are grilled, constantly turning the chicken back and forth as a rotisserie would. This easy recipe is made in the oven to save you time and elbow grease. Recipe adapted from Chef Greg Harrison, Pacific'O Restaurant.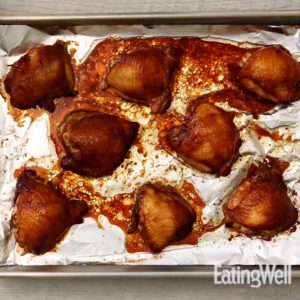 Ingredients
Chicken
2 tablespoons coconut oil
1 head garlic, halved
3 (4 inch) stalks lemongrass, smashed and diced
1 (3 inch) piece fresh ginger, chopped
4 cups ice water
1 cup reduced-sodium tamari
1 orange, sliced
8 bone-in chicken thighs (about 4 pounds)
Sauce
¾ cup pineapple juice
⅓ cup chopped pineapple
⅓ cup reduced-sodium tamari
3 tablespoons light brown sugar
1½ tablespoons minced garlic
1 scallion, sliced
2 teaspoons minced fresh ginger
2 teaspoons minced shallot
1½ tablespoons rice vinegar
Instructions
To prepare chicken:
Heat oil, garlic halves, lemongrass and ginger in a medium skillet over medium heat. Cook, stirring, until starting to brown, about 2 minutes. Immediately transfer the mixture to a large bowl and add water, 1 cup tamari and orange. Add chicken, cover and refrigerate for at least 6 hours and up to 1 day.
Meanwhile, to prepare sauce: Puree pineapple juice and pineapple in a blender until smooth. Transfer to a medium saucepan and add tamari, brown sugar, garlic, scallion, ginger, shallot and vinegar. Bring to a boil over medium-high heat; cook, stirring occasionally, until reduced by half, 8 to 10 minutes.
Position rack in upper third of oven; preheat to 425°F. Line a rimmed baking sheet with foil.
Remove the chicken from the marinade and pat dry with paper towels. (Discard the marinade.) Place on the prepared pan. Bake until an instead-read thermometer inserted in the thickest part without touching bone registers 160°F, about 25 minutes. Brush with 2 tablespoons of the sauce. Increase oven temperature to broil. Broil on high until charred in spots, 2 to 3 minutes.
Watch the recipe video here: