Pumpkin Bread Ring With Maple Cream Cheese Filling
Who else is ready for all of the fall foods?!? ? ?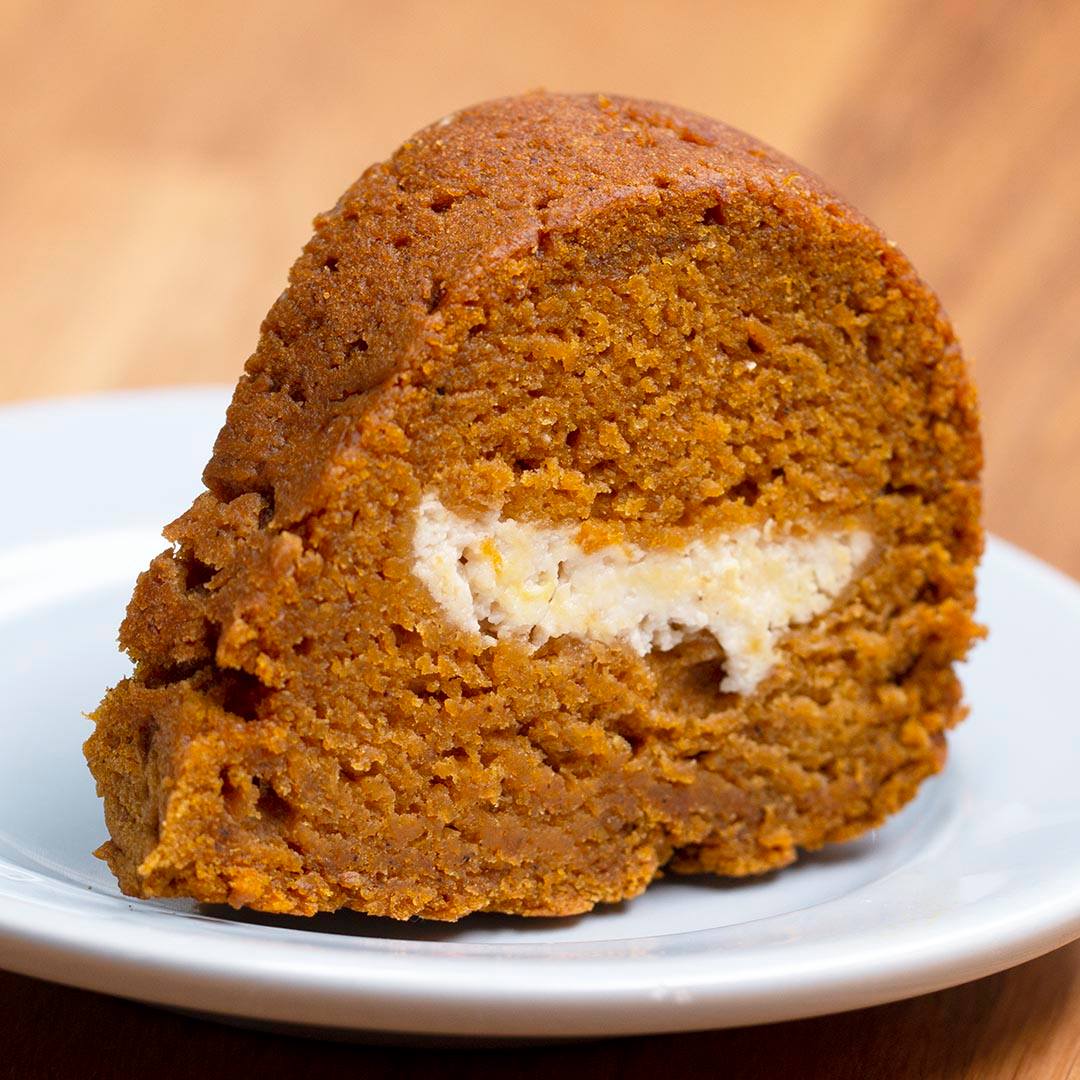 Ingredients
MAPLE CREAM CHEESE FILLING
8 oz vegan cream cheese, softened (225 g)
1 teaspoon lemon juice
2 teaspoons vanilla extract
4 tablespoons pure maple syrup
PUMPKIN BREAD
2 ½ cups all-purpose flour (310 g)
1 cup brown sugar (220 g)
1 teaspoon cinnamon
⅛ teaspoon allspice
¼ teaspoon nutmeg
¼ teaspoon ground ginger
¼ teaspoon ground cloves
1 teaspoon baking soda
1 teaspoon baking powder
½ teaspoon salt
16 oz unsweetened pumpkin puree, 1 can (450 g)
¾ cup vegetable oil (180 g)
¼ cup water (60 mL)
2 teaspoons vanilla extract
nonstick cooking spray, for greasing
Instructions
Preheat the oven to 350˚F (180˚C).
Make the maple cream cheese filling: In a medium bowl, combine the cream cheese, lemon juice, vanilla, and maple syrup. Stir until smooth and creamy. Set aside until ready to use.
Make the pumpkin cake: Sift the flour into a large bowl and add the brown sugar, cinnamon, allspice, nutmeg, ginger, cloves, baking soda, baking powder, and salt. Whisk to combine.
In a medium bowl, combine the pumpkin puree, vegetable oil, water, and vanilla. Whisk well.
Gradually add the wet ingredients to the dry ingredients, folding with a rubber spatula just until combined. Do not overmix the batter.
Generously grease a bundt pan with nonstick spray.
Add 3 cups (675 G) of pumpkin batter to the pan and spread evenly. Then, scoop the cream cheese filling over the batter, making a ring. Top with the remaining batter and spread to cover the filling.
Bake for 45 minutes, until a toothpick inserted into the cake comes out clean.
Remove the cake from oven and let cool for 15 minutes before inverting to remove from the pan.
Slice and serve.
Enjoy!
Watch the recipe video here: