ONE POT BIG MAC 'N' CHEESE
Big Mac...n Cheese. Do you see what we did there? We can't believe we haven't combined these two titans of pop cuisine before. What better bedfellows than that icon of burgers, the Big Mac, and his cheesy pasta pal? Also, we've tried to replicate the flavours of that magical sauce by adding paprika and various other spices in an easy to cook one pot dish. We are very nice.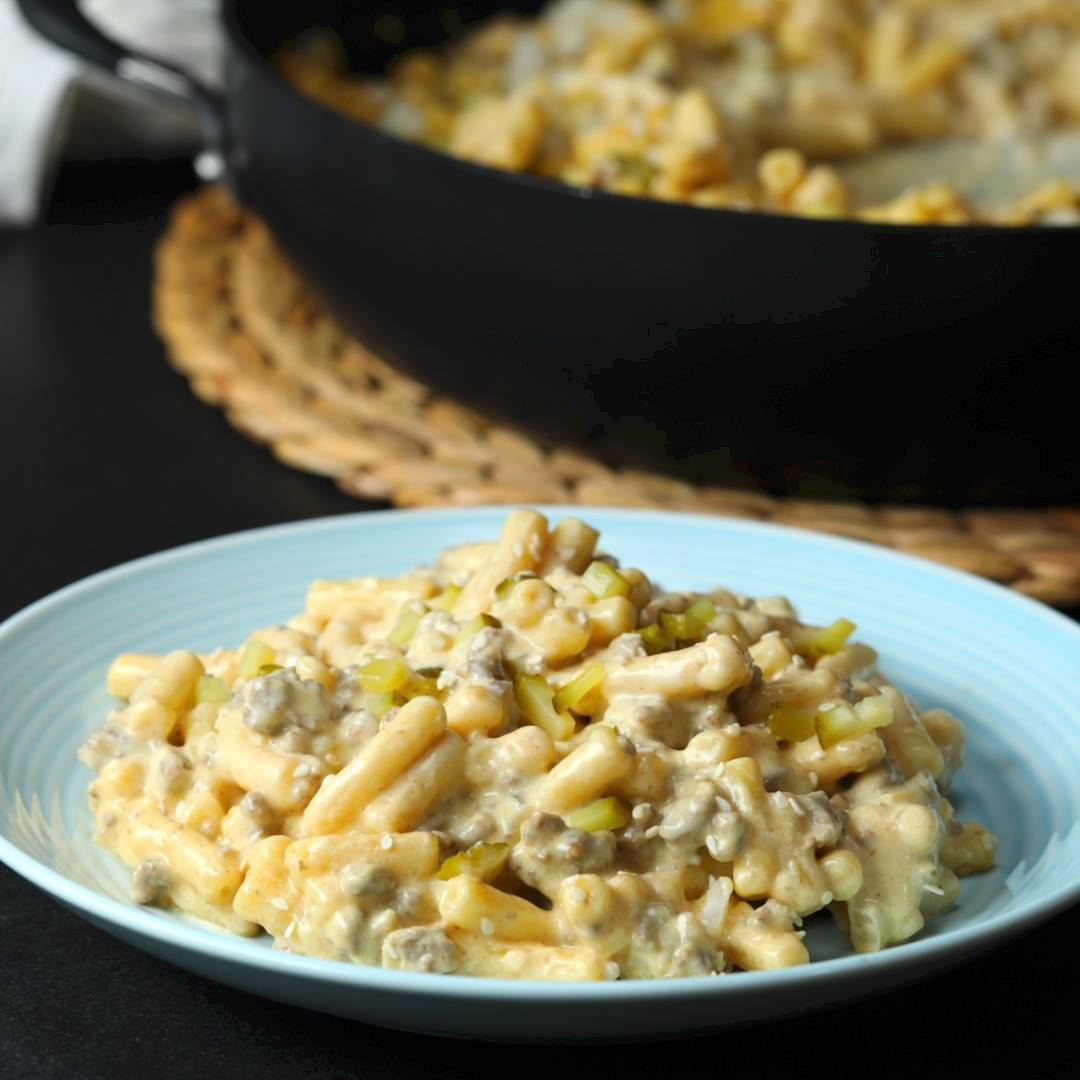 Ingredients
2 tbsp groundnut oil
500g beef mince
1 tbsp sea salt
400g macaroni
1200ml milk
2 tbsp American mustard
1 tsp paprika
1 tsp garlic powder
1 tsp onion powder
1 tsp salt
200g grated mild cheddar
Chopped pickles, white onion and toasted sesame seeds, to serve.
Instructions
In a large, deep sided pan heat the oil until it's almost smoking then add the beef. Quickly stir fry, breaking it up with the spoon, until it's grey all over and cooked all the way through without getting dry.
Remove the beef from the pan and give it a bit of a clean. Add the pasta and milk and bring back to a simmer, stirring frequently, until the liquid has thickened up to a creamy liquid.
Stir in the mustard, paprika, garlic powder, onion powder and salt. Add the beef back to the pan along with the cheese and stir everything together to combine and melt the cheese. Add more milk or cream (naughty) if you want it to be more silky.
Serve, scattered with chopped pickles and white onion.
Watch the recipe video here:
One Pot Big Mac 'n' Cheese

Posted by Twisted on Friday, August 24, 2018