Pumpkin Pie Bombs
A pumpkin explosion!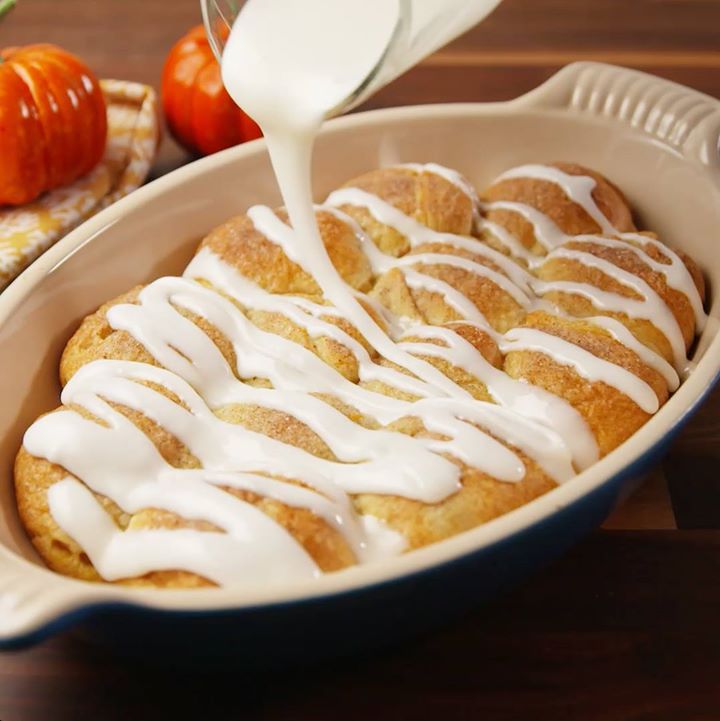 Ingredients
1 tube crescent rolls
1 c. canned pumpkin puree
3 oz. cream cheese, softened to room temperature
1 egg
⅔ c. sugar, divided
3 tsp. pumpkin pie spice, divided
1 tsp. vanilla extract
pinch of kosher salt
2 tbsp. melted butter
½ c. powdered sugar
1 tbsp. milk
Instructions
Preheat oven to 375 and line a large baking sheet with parchment paper.
In a large bowl using a hand mixer, mix pumpkin, cream cheese, egg, ⅓ c sugar, 2 tsp pumpkin pie spice and vanilla. Mix until smooth and season with a pinch of salt.
Unroll crescent rolls and pinch the perforations together to create one solid sheet. Cut into 8 squares.
Dollop a rounded tablespoon of pumpkin mixture onto each square. Pinch all corners together and seal to create a ball.
In a small bowl, mix sugar with 1 teaspoon pumpkin pie spice. Brush balls with melted butter and roll in the sugar mixture.
Place balls on a baking sheet, leaving about 2" space between each ball. Bake until balls are golden and puffy, about 10-15 minutes.
While the balls are baking, make glaze: in a medium bowl, mix powdered sugar and milk until smooth, adding more powdered sugar or milk for desired consistency. Serve slightly cooled balls with glaze for dipping.
Watch the recipe video here:
Pumpkin Pie Bombs are THE fall dessert of 2017.Full recipe: http://dlsh.it/qEBgWb3

Posted by Delish on Sunday, September 17, 2017