Potluck Banana Cake
I found this recipe more than five years ago and have been making it for family gatherings ever since. The coffee-flavored frosting complements the moist banana cake.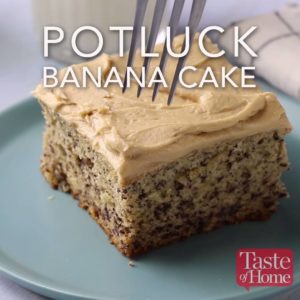 Ingredients
½ cup butter, softened
1 cup sugar
2 large eggs
1 teaspoon vanilla extract
2 cups all-purpose flour
2 teaspoons baking soda
½ teaspoon salt
1-1/2 cups mashed ripe bananas (about 3 medium)
1 cup sour cream
COFFEE FROSTING:
⅓ cup butter, softened
2-1/2 cups confectioners' sugar
2 teaspoons instant coffee granules
2 to 3 tablespoons whole milk
Instructions
In a large bowl, cream butter and sugar until light and fluffy. Add eggs, one at a time, beating well after each addition. Stir in vanilla. Combine the flour, baking soda and salt; add to creamed mixture alternately with bananas and sour cream, beating well after each addition.
Pour into a greased 13x9-in. baking dish. Bake at 350° for 35-40 minutes or until a toothpick inserted in the center comes out clean. Cool completely on a wire rack.
For frosting, in a small bowl, beat butter and confectioners' sugar until smooth. Dissolve coffee granules in milk; add to butter mixture and beat until smooth. Spread over cake.
Watch the recipe video here:
Coffee-flavored frosting makes the perfect topping for this moist banana cake.Get the Potluck Banana Cake recipe here–> https://trib.al/rgJzpN5

Posted by Taste of Home on Sunday, June 30, 2019