TUSCAN CHICKEN MAC 'N' CHEESE
Creamy Mac'n'Cheese is everyones dreamy comfort meal. This dish has a few extra bits to liven it up, it's super cheesy, creamy and packed with flavour. Tuscan Chicken Mac 'n' Cheese is a winner in our books!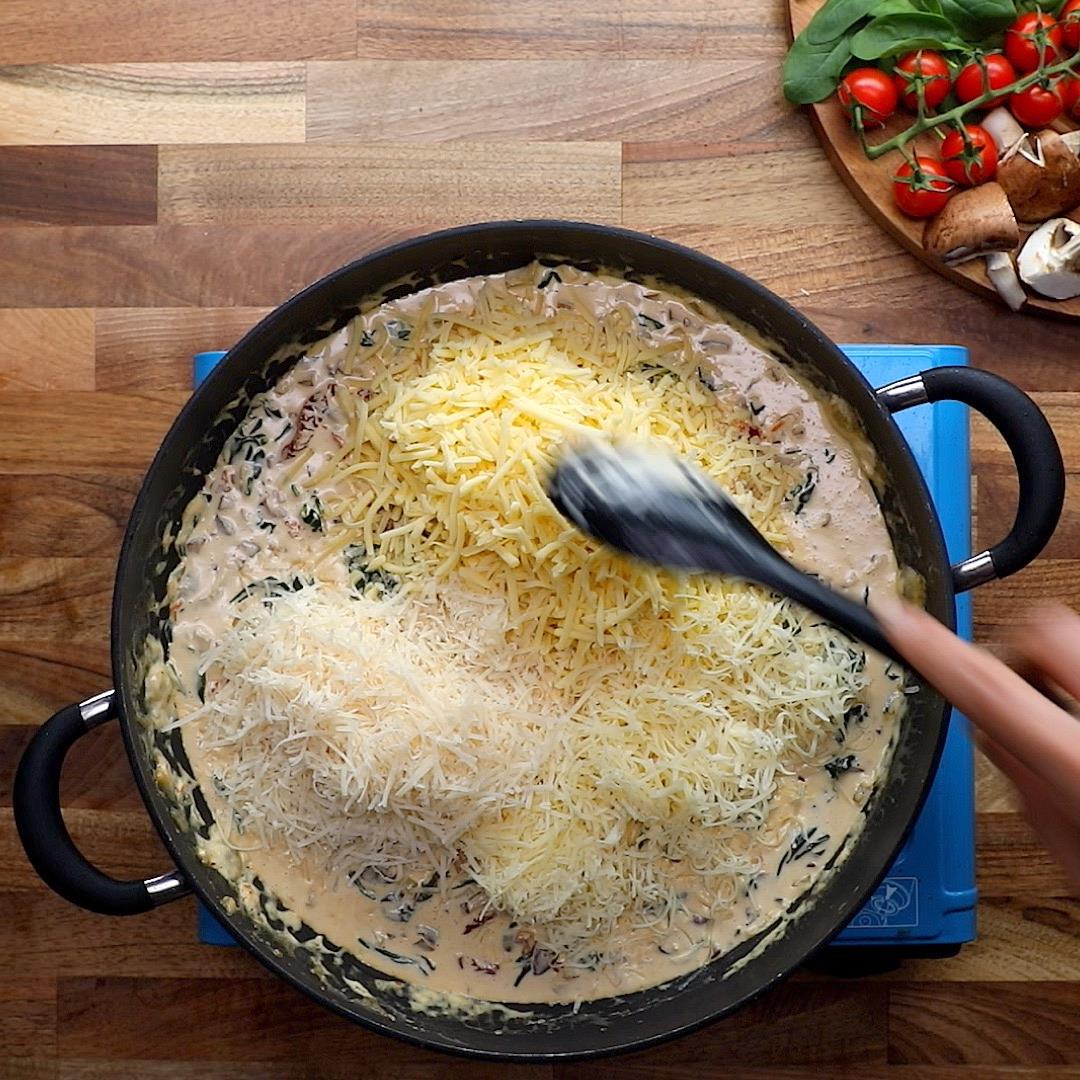 Ingredients
4 chicken breasts
1 tbsp oil
1 tsp paprika
½ tsp Italian seasoning
Salt and pepper to taste
2 tsp oil
¼ cup chopped sundried tomatoes
1 cup chopped mushrooms
2 cloves garlic, minced
1 onion, diced
2 cups baby spinach
½ cup wine
2 cups cream
1 cup chicken stock
450g macaroni noodles, cooked
1 cup Grated gruyere
1 cup grated mozzarella
½ cup grated parmesan
Salt and pepper to taste
Instructions
Coat the chicken breasts in the oil, paprika, Italian seasoning, and salt and pepper to taste.
Heat a saucepan over medium heat. Sear chicken breasts on both sides until golden brown, about 4 minutes each side. Set aside covered under foil to keep warm.
In the same pan, add 2 tsp oil. Cook mushrooms until softened. Add onions and garlic and sauté until softened.
Pour in white wine, bring to a simmer and reduce it by half.
Add sundried tomatoes, chicken stock, and cream. Bring to simmer. Stir in the spinach then cover will a lid and let simmer to thicken slightly.
Season with salt and pepper. Add cheeses and stir to combine.
Add macaroni noodles and stir to coat noodles. Add a splash of water if needed to .
Serve in bowls topped with sliced chicken.
Enjoy!
Watch the recipe video here:
Tuscan Chicken Mac 'n' Cheese

Posted by Twisted on Friday, October 19, 2018