Timpano
If life is what you make it, we're gunna make this.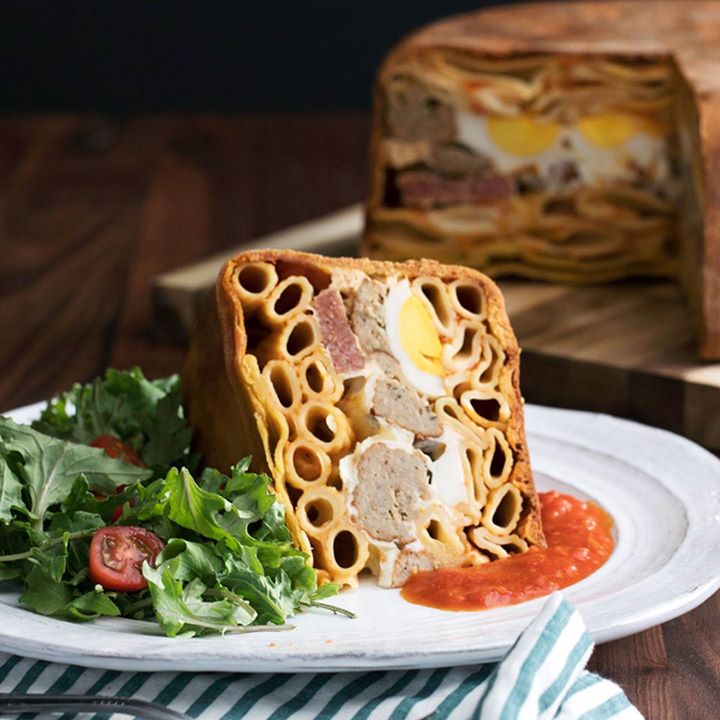 Ingredients
2 cups 00 flour
2 whole eggs plus 6 egg yolks, beaten
¼ cup extra-virgin olive oil, divided
Kosher salt, to taste
1 pound rigatoni pasta, cooked al dente
2 cups marinara sauce
12 hard-boiled eggs, sliced in half
12 meatballs, fully cooked
1 pound low moisture mozzarella, cut into ½-inch circles
½ pound grated aged provolone
1 pound Genoa salami, sliced into rounds
Instructions
Preheat oven to 375 degrees.
In the bowl of a stand mixer fitted with a dough hook, add the flour, eggs, 2 tablespoons olive oil and kosher salt to taste. Mix on low speed until a dough begins to form. Increase speed to medium-high and knead for 5 minutes or until smooth. Wrap in plastic wrap and leave out to rest for 30 minutes.
Coat the interior of a Dutch oven with the remaining 2 tablespoons olive oil. Unwrap dough and dust with flour. On a well-floured work surface, roll out dough into one large disc, about ⅛ inch thick. Roll dough around the rolling pin, and unroll into the Dutch oven, carefully pressing down to the bottom, making sure there is still about 6 inches or more hanging outside the vessel.
Start filling your Timpano with a layer of cooked pasta tossed in a small amount of sauce. Begin forming layers using half of each of the fillings: eggs, then meatballs, cheeses, and salami. Repeat, starting with the pasta every time, until the Timpano is filled to the brim. Finish with a final layer of aged provolone. Carefully fold the excess dough up from the sides and press down on the top to seal shut.
Cover the Dutch oven and bake for 1½ hours. For a crispier crust, bake uncovered.
Let the Timpano rest in the pan for one hour, then place a large cutting board over top of the Dutch oven and invert. Cut into slices, like you would a cake. Serve with a spoonful of marinara sauce.
Watch the recipe video here: