Juicy Lucy Crunch Burger
Get the best of every texture with these juicy cheese-stuffed patties topped with freshly fried and crunchy potato chips.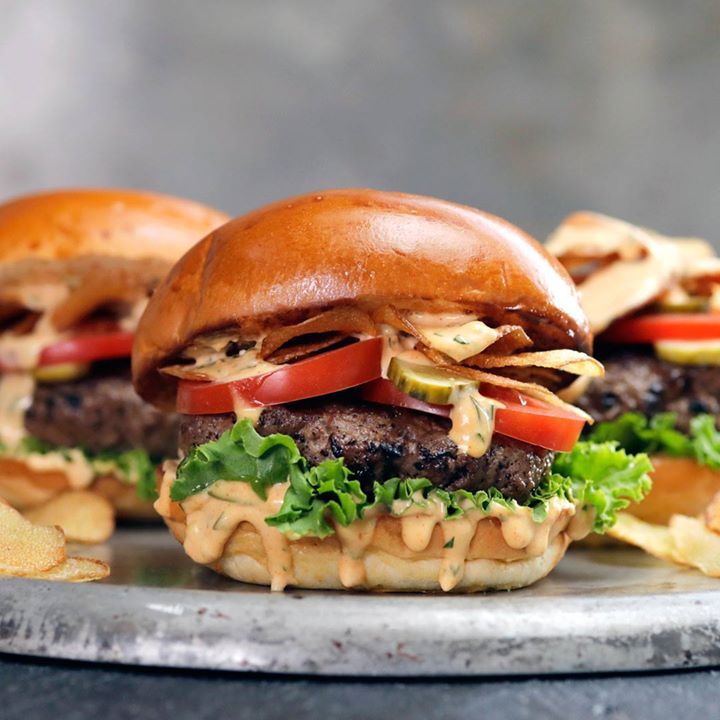 Ingredients
For the chips:
2 pounds fingerling potatoes, washed and chilled
1 tablespoon white vinegar
4 cups canola oil or vegetable oil for deep-frying
1 teaspoon seasoning salt
For the sauce:
¼ cup mayonnaise
1 teaspoon dill pickle juice
1 teaspoon diced mini dill pickles
2 teaspoons ketchup
1 teaspoon yellow mustard
¼ teaspoon smoked paprika
¼ teaspoon onion powder
¼ teaspoon garlic powder
½ teaspoon minced parsley leaves
For the burger:
2 slices mild cheddar cheese, quartered
2 slices American cheese, quartered
1½ pounds ground chuck, chilled
1 teaspoon seasoning salt
½ teaspoon onion powder
½ teaspoon Worcestershire sauce
¼ teaspoon black pepper
Brioche buns, green leaf lettuce and tomato for serving
Instructions
For the chips:
Using a mandoline, cut each potato into paper-thin slices; transfer the slices to a bowl of ice water. Add vinegar to the sliced potatoes.
Drain the slices on paper towels and allow to dry for at least 30 minutes.
In a 3-quart shallow saucepan, heat oil until a deep-fat thermometer registers 380 degrees. Working in batches of 10 or 12 slices, fry potatoes until golden, about 2 minutes. Transfer chips to a baking sheet lined with paper towels or a cooling rack and sprinkle with seasoning salt.
For the sauce:
In a small bowl, whisk together the mayo, pickle juice, minced pickles, ketchup, mustard, paprika, onion powder, garlic powder and chopped parsley. Set aside.
For the burger:
Stack 2 quarters of American cheese on top on 2 quarters of cheddar cheese and set aside. Repeat with remaining cheese slices.
Place the ground chuck in a large bowl and add the seasoning salt, onion powder, Worcestershire and black pepper. Mix with your hands until just combined. Do not overwork the meat mixture.
Divide the meat into 8 equal portions. Using your fingers, press 2 portions of the meat into 2¼-inch-thick patties that are each about 1 inch wider than the hamburger buns.
Place a stack of cheese into the center of one patty and place the second patty on top, making sure to pinch and round off the edges carefully. Repeat with remaining portions.
Preheat a grill pan or outdoor grill to medium-high heat. Cook each stuffed patty for about 4 minutes on each side and allow to rest before serving.
To assemble the burger, place the bottom of a brioche bun on a clean plate. Spread about 1 tablespoon of sauce on both sides of the bun. On the bottom bun, layer the lettuce, then the burger, followed by a tomato slice and a small handful of chips. Top with the coated top bun. Serve with extra chips and a side of sauce.
Watch the recipe video here:
Last name Hungry, first name Always? Then Juicy Lucy is for YOU.Save this recipe: https://taste.md/2vJi4nJMore recipes on our app ? https://taste.md/2sltyPt

Posted by Tastemade on Monday, September 11, 2017