Steak With Parmesan Spinach
What We're Loving: Grilled Steak with Parmesan Spinach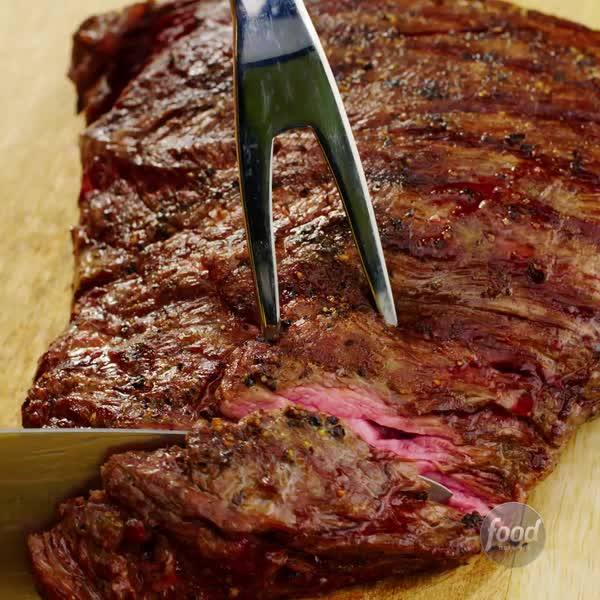 Ingredients
1½ pounds flank steak
Extra-virgin olive oil, for brushing
Kosher salt and freshly ground pepper
1½ tablespoons unsalted butter
½ onion, finely chopped
1½ tablespoons all-purpose flour
1½ cups whole milk
2 10-ounce packages frozen chopped spinach, thawed and squeezed dry
¾ cup grated parmesan cheese
½ teaspoon grated lemon zest
¼ teaspoon freshly grated nutmeg
Instructions
Heat a grill pan over medium-high heat. Pat the steak dry and brush lightly with olive oil. Season with 11/2 teaspoons salt and 2 to 3 teaspoons pepper. Cook, turning once, 10 to 13 minutes total for medium rare. Transfer the steak to a cutting board to rest, about 10 minutes.
Meanwhile, melt the butter in a medium saucepan over medium heat. Add the onion and cook until softened, about 5 minutes. Add the flour and cook, stirring, 1 minute. Remove from the heat and gradually whisk in the milk. Return to medium heat and simmer, whisking, until slightly thickened, about 2 minutes.
Stir in the spinach, ¼ cup water, ½ cup parmesan, the lemon zest and nutmeg and cook, stirring occasionally, until the sauce thickens and the spinach is tender, about 10 minutes. Thin with water, if needed. Stir in the remaining ¼ cup parmesan and salt to taste.
Thinly slice the steak and serve with the spinach.
Watch the recipe video here: