Roasted Sweet Potatoes with Miso-Tahini Sauce
This addictive three-ingredient sauce can go on anything. Make a double batch and spoon the extras over just about any meat, your next grain bowl, or thin it out with a little extra vinegar and use it as a salad dressing.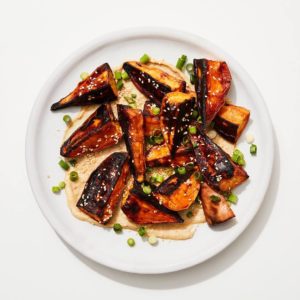 Ingredients
2 small sweet potatoes (about 10 oz. total)
2 Tbsp. neutral oil, such as canola or grapeseed
½ tsp. kosher salt
2 Tbsp. tahini
2 Tbsp. white miso
2 tsp. distilled white vinegar
1 scallion
1 tsp. raw sesame seeds
Instructions
Preheat oven to 450°. Rinse 2 sweet potatoes, rubbing to remove dirt from skins.
Cut potatoes into quarters lengthwise, then cut each wedge in half crosswise into 2"-long pieces (think a nice size to eat with your hands).
Toss potatoes, 2 Tbsp. oil, and ½ tsp. salt on a rimmed baking sheet. Roast, tossing every 5 minutes, until a knife easily pierces flesh but exterior is still crispy, 15–20 minutes total (really important since you are cooking them at such a high temperature!).
Meanwhile, mix 2 Tbsp. tahini, 2 Tbsp. miso, 2 tsp. vinegar, and 1 Tbsp. water with a fork in a small bowl until smooth.
Trim root end off 1 scallion, then thinly slice from bulb to dark green tip.
Heat a small dry skillet over medium. Toast 1 tsp. sesame seeds, tossing constantly, until fragrant and golden, about 30 seconds.
Spread tahini sauce on a platter. Arrange potatoes over. Top with sesame seeds and scallions.
Watch the recipe video here: