Cheesesteak Empanadas
These flaky empanadas are filled with all the fixin's of Philly's famous cheesesteaks. A spicy cheese sauce for dipping on the side is the winning touch -- or you can skip it depending on which whiz camp you're in.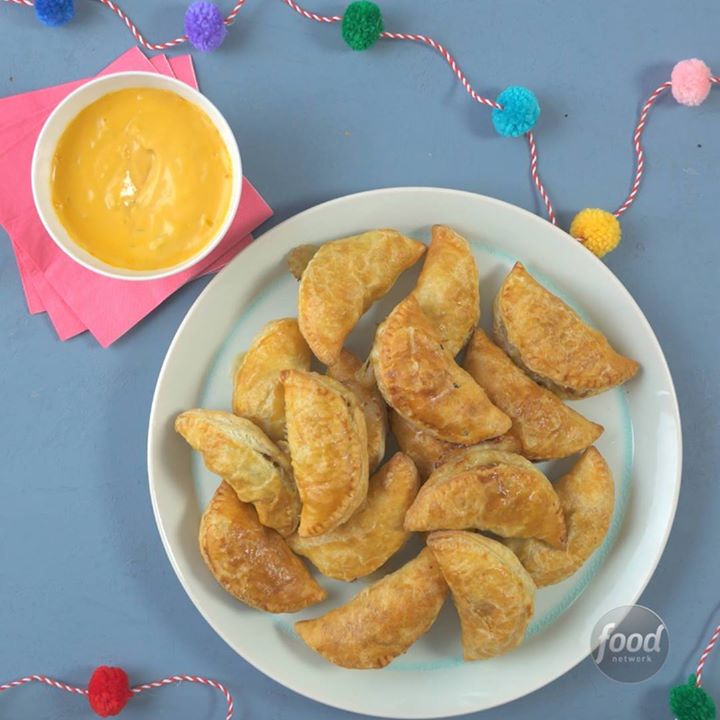 Ingredients
2 tablespoons vegetable oil
8 ounces sirloin steak, sliced into very thin strips about 1 inch long
Kosher salt and freshly ground black pepper
2 cloves garlic, minced
½ small yellow onion, thinly sliced
½ small green bell pepper, thinly sliced
4 ounces provolone, cut into small cubes
1 large egg
One 17.3-ounce package frozen puff pastry, thawed (2 sheets)
All-purpose flour, for dusting
1 cup prepared jarred cheese sauce, such as Cheez Whiz
2 tablespoons sliced pepperoncini, diced with juice
Instructions
Special equipment: a 4-inch round cookie cutter
Position 2 racks in the middle of the oven and preheat to 425 degrees F. Line 2 baking sheets with parchment.
Heat the oil in a large skillet over medium-high heat. When it starts to shimmer, add the beef, a pinch of salt and a few grinds of pepper. Cook, stirring occasionally, until lightly browned on the edges and just cooked through, 2 to 3 minutes. Transfer the beef to a medium bowl and set aside. Add the garlic, onion and bell pepper to the skillet and cook, stirring constantly, until crisp-tender, about 2 minutes.
Add the vegetables to the bowl with the beef and toss to combine. Allow to cool slightly. Fold in the provolone cubes. Lightly beat the egg with 1 tablespoon water in a small bowl and set aside.
Unfold 1 puff pastry sheet onto a lightly floured surface. Roll out into a 12-inch square. Cut out 9 rounds with a 4-inch round cookie cutter. Spoon about 1 tablespoon of the meat filling just off center on each round. Brush the edge of each round with the egg wash and fold the puff pastry over the filling, slightly stretching if necessary. Press the edges together and crimp with a fork to seal.
Transfer the empanadas one of the prepared baking sheets and brush each with more egg wash. Repeat this process with the remaining pastry sheet, filling and egg wash. Bake until puffed and golden brown, about 15 minutes.
Meanwhile, combine the cheese sauce, pepperoncini and juice in a microwave-safe bowl. Microwave on high for 30 seconds and then stir. Repeat until hot.
Serve the empanadas with the cheese sauce for dipping.
Watch the recipe video here: