Roasted Eggplant and Pickle Dip
Plenty of creamy Greek yogurt keeps this baba ganoush-esque dip light and tangy. Briny half-sour pickle bits provide bright pops of contrast, but any chopped pickle-y thing—think spicy peperoncini, giardiniera, or full-sour cukes—would work great too. This recipe is presented to you by Samsung.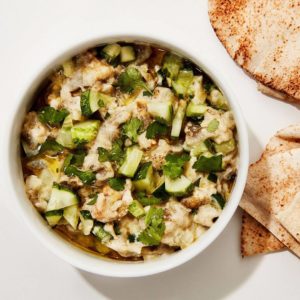 Ingredients
1 medium globe eggplant (about 1 lb.)
2 Tbsp. extra-virgin olive oil, plus more for drizzling
Kosher salt
1 half-sour pickle
1 garlic clove
¼ cup plain whole-milk Greek yogurt
4 sprigs cilantro
Pita or flatbread (for serving)
Instructions
Preheat oven to 450°. Slice 1 eggplant in half lengthwise, then score cut sides in a crosshatch pattern.
Place eggplant on a rimmed baking sheet and drizzle all over with 2 Tbsp. oil; season with salt. Arrange cut sides down and roast until cut sides are dark golden brown and skin sides begin to collapse, 12–18 minutes. Let cool.
Meanwhile, do a little prep. First, finely chop 1 pickle. Transfer half to a medium bowl; reserve remaining half for serving.
Peel 1 garlic clove and finely grate with a microplane into bowl with pickle. Add ¼ cup yogurt and stir to combine.
Pick cilantro leaves and tender stems from sprigs and coarsely chop; set aside for serving.
When eggplant is cool enough to handle, turn cut side up and scoop flesh onto cutting board. Coarsely chop eggplant until mostly broken down, then add to bowl with pickle mixture, leaving any excess liquid behind. Season with more salt and stir to combine.
Place pita directly on oven rack and toast 1 minute. Cut into quarters.
Top dip with reserved pickles, cilantro, and a drizzle of oil. Serve with pita alongside.
Watch the recipe video here: