Rainbow Chard Rolls
Colorful rainbow chard is stuffed with chicken, peanuts and green onions, mixed with a tangy peanut butter sauce.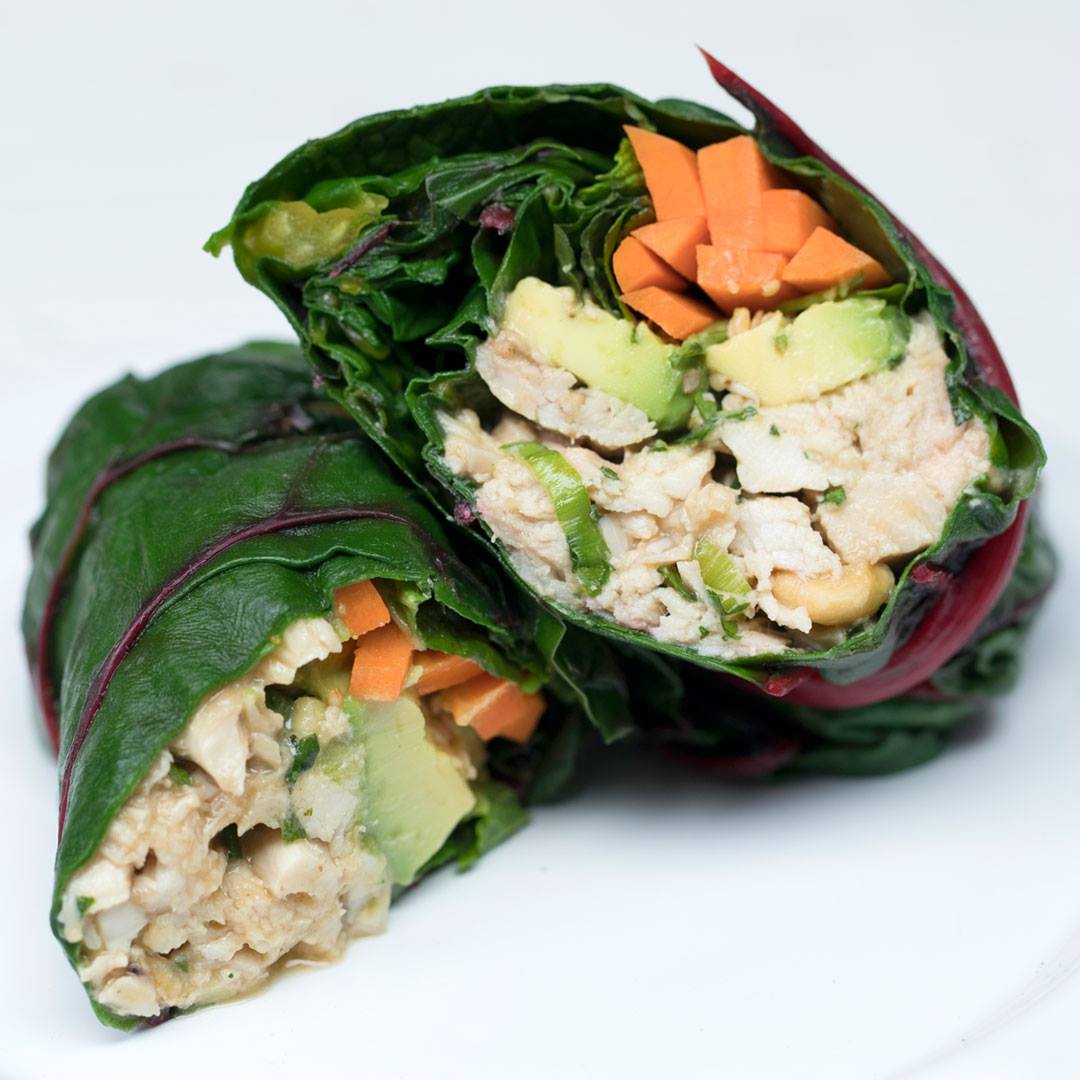 Ingredients
2 bunches rainbow chard, tough ends cut off and discarded
¼ cup rice wine vinegar
¼ cup toasted sesame oil
2 tablespoons smooth peanut butter
1 tablespoon grated fresh ginger
2 tablespoons low sodium soy sauce
1 tablespoon honey
3 cups cooked chicken, shredded
¼ cup dry roasted salted peanuts
2 tablespoons cilantro, finely chopped
2 green onions, sliced
Pinch of kosher salt
1 avocado, sliced
Cilantro and mint leaves, for garnish
Sesame seeds, for garnish
Quick pickled carrots:
1 cup rice vinegar
2 tablespoons sugar
1 teaspoon salt
3 medium carrots, peeled and cut into long matchsticks
Instructions
Prepare carrots. Add vinegar, sugar and salt to a medium saucepan and bring to a simmer. Stir until sugar dissolves. Add carrots to a heat-proof bowl, and pour vinegar mixture over top. Allow to cool to room temperature.
Bring a large pot of salted water to a boil.
Remove large thick stalks at end of chard leaves. Blanch chard leaves in batches in boiling water for 10-15 seconds until just pliable. Remove from water and cool to room temperature. Pat dry with paper towels. Set aside.
Whisk together the vinegar, sesame oil, peanut butter, ginger, soy sauce and honey in a medium bowl. Season with a pinch of salt. Fold in shredded chicken, peanuts, green onions and cilantro, and mix until combined.
To assemble:
Lay out a chard leaf on a clean work surface. Layer a second leaf to cover any holes. Add chicken mixture, quick pickled carrots, then avocado and herbs. Sprinkle with sesame seeds. Roll up like a burrito. Slice in half on the bias to serve.
Watch the recipe video here:
Eating healthy never tasted so good.Taste for Yourself: taste.md/2qILLSk

Posted by Tastemade on Wednesday, June 27, 2018