Pork Chops with Fennel and Caper Sauce
Recipe of the Day: Giada De Laurentiis' Pork Chops with Fennel and Caper Sauce ?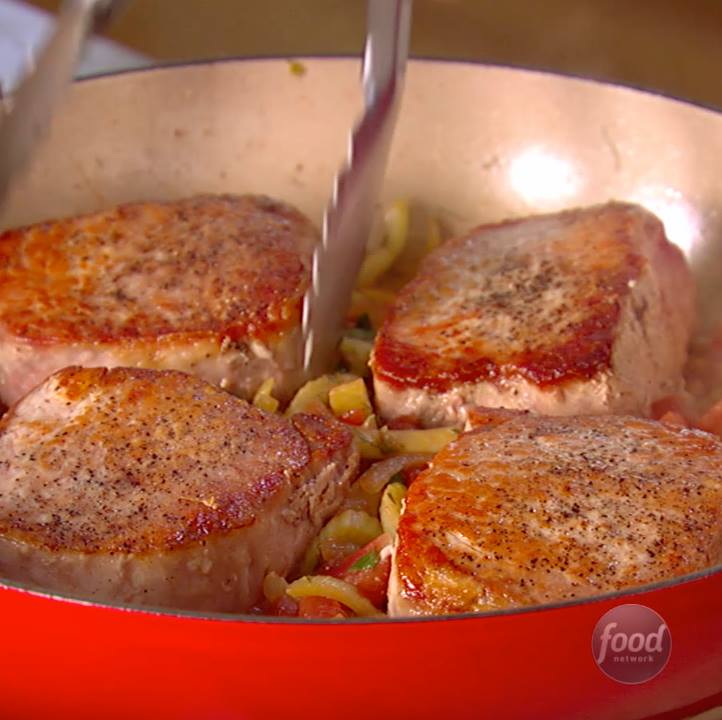 Ingredients
¼ cup olive oil
4 boneless (2-inch-thick) pork chops (about 2 pounds total)
¾ teaspoon salt, plus more for seasoning meat
¾ teaspoon freshly ground black pepper, plus more for seasoning meat
2 fennel bulbs with fronds, thinly sliced (about 8 ounces or 2 cups)
2 large shallots, thinly sliced
⅓ cup chopped fresh flat-leaf parsley, plus ⅓ cup
½ cup white wine
1 (28-ounce) can diced tomatoes, with their juices
½ lemon, zested
2 tablespoons capers
Instructions
In a large, heavy skillet heat the olive oil over high heat. Season the pork chops with salt and pepper. Add the pork to the pan and brown on both sides, about 4 minutes each side. Remove the pork from the pan, cover loosely with foil, and set aside.
Add the fennel, shallots, and ⅓ cup parsley to the pan and cook over medium heat until beginning to brown, about 5 minutes. Add the wine. Using a wooden spoon, scrape the brown bits off the bottom of the pan. Add the tomatoes and stir. Add the pork back into the pan, nestling the chops between the fennel and tomatoes so they are mostly submerged in the pan juices. Cook until the fennel is tender and the pork is done, about 12 to 15 minutes.
Place the pork on a serving dish. To finish the sauce, add the lemon zest, remaining ⅓ cup parsley, capers, and ¾ teaspoon each salt and pepper. Stir to combine. Spoon over the pork chops and serve immediately.
Watch the recipe video here: