Pizza Churros
Commonly served as a sweet street side snack or dessert, churros are a favorite treat. We put a savory spin on them with cheesy pizza flavors, fried till golden brown so they're slightly molten inside. Dipped in your favorite pizza sauce they're a great appetizer!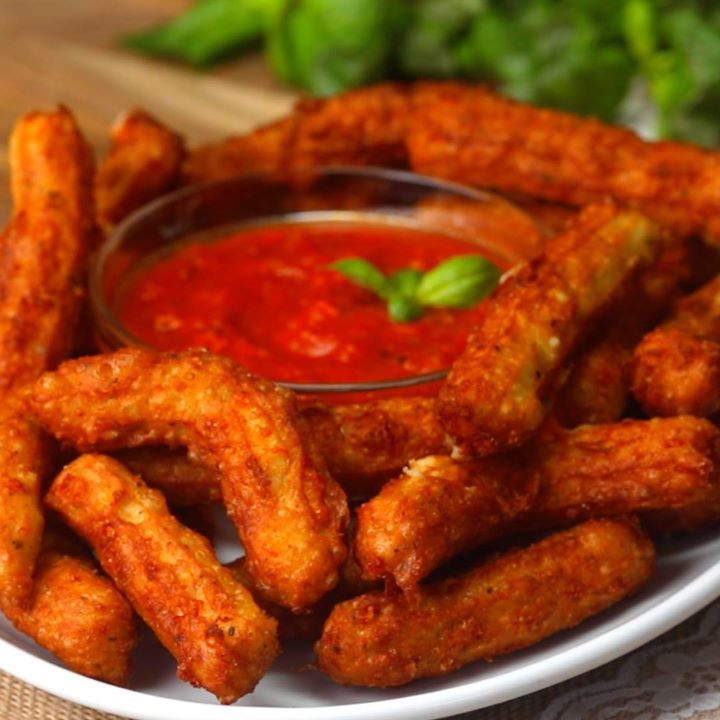 Ingredients
½ cup butter
1½ cups water
1 tsp salt
1 tsp oregano
½ tsp dried basil
1 tsp garlic powder
1 tsp onion granules
1¼ cups plain flour
3 eggs
1 cup grated mozzarella cheese
Oil for frying
Marinara Sauce
Instructions
Heat oil to 190ºC (375ºF).
In a medium saucepan, combine water and butter until just starting to melt and simmering. Add all of the spices and stir to dissolve and bring to a simmer.
Add flour all at once. Stir until the dough pulls away from the sides of the pan and forms a ball. Remove from heat and let cool for 4 to 5 minutes.
Stir in eggs one at a time until fully combined then add the cheese.
Using a star-tip in a piping bag, pipe about 3-4-inch long churros. Fry until golden brown.
Serve with marinara sauce to dip. Enjoy!
Watch the recipe video here:
Pizza Churros

Posted by Twisted on Friday, December 29, 2017