Luxury Strawberry Jelly Cake
Quite possibly the most elegant and luxurious jello with strawberries and gold. Fancy, fancy.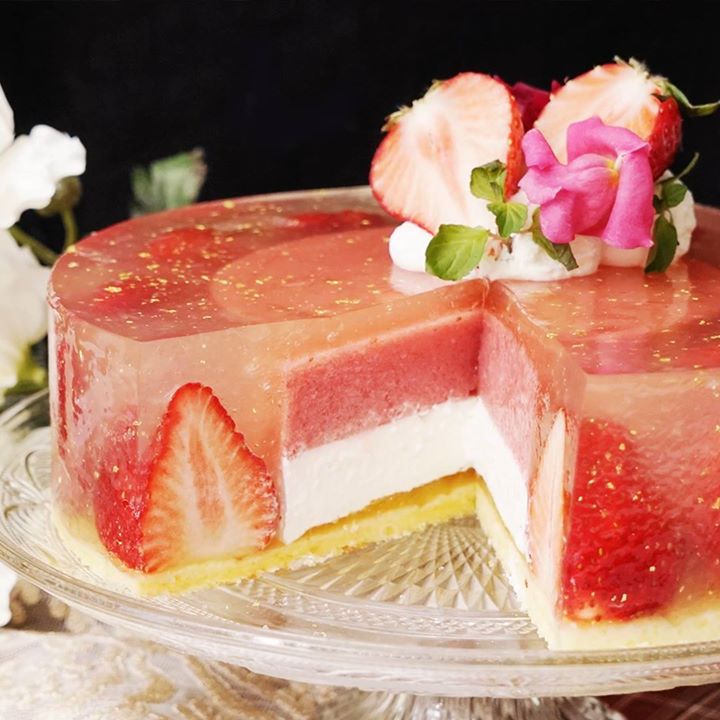 Ingredients
11 strawberries
1 7-inch round sponge cake
Strawberry jelly:
5 ounces strawberries, quartered
1½ tablespoons granulated sugar
½ tablespoon powdered gelatin plus 1 tablespoon water
Lemon gelatin:
1¾ cups water
3 tablespoons granulated sugar
5 sheet gelatin, soaked in ice water
⅓ cup lemon juice
2 tablespoons honey
Gold leaf, optional
Whipped cream:
¾ tablespoon granulated sugar
½ tablespoon cherry fruit brandy
¾ cup heavy cream
Instructions
In a 7-inch round cake pan, add the sponge cake round. Line with whole strawberries. Set aside.
In a food processor, add strawberry jelly ingredients and blend to combine.
Line a 4-inch round cake pan with plastic wrap. Pour in the strawberry jelly mixture and cool until hardened.
In a mixing bowl, add sugar, cherry brandy and heavy cream. Allow to sit for 8 minutes, then whip to soft peaks. Top set strawberry jelly with a layer of whipped cream and cool in freezer until set.
In a saucepan over medium heat, add water and sugar. Add soaked sheet gelatin and allow to melt. Stir to combine. Add lemon juice, honey and gold leaf and stir until combined. Pour one-third of the gelatin mixture overtop of the sponge cake layer. Add the set strawberry jelly, and cover cake with remaining gelatin mixture.
Place in refrigerator until set. Remove from mold. Add garnishes and serve.
Watch the recipe video here:
Daaaaamn. We've never seen strawberries and cream look so good.Taste for Yourself: taste.md/2DQgFOy?: Tastemade Japan

Posted by Tastemade on Sunday, March 25, 2018