SLOPPY JOES BAKED SWEET POTATOES
Swapping bread for baked sweet potatoes makes eating a Sloppy Joe so much healthier! This savory-sweet dish is gluten-free, dairy-free, whole30 and Paleo.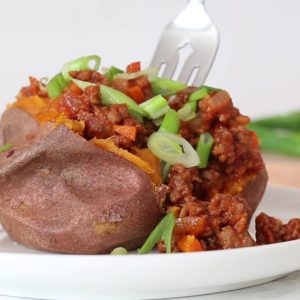 Ingredients
4 medium, 7 oz each sweet potatoes, washed and dried
½ lb 93% lean ground beef
1 teaspoon seasoned salt, such as Montreal Steak
⅓ cup chopped carrot
⅓ cup chopped onion
⅓ cup chopped mushrooms
2 tablespoons chopped red bell pepper
1 clove garlic, minced
½ tbsp red wine vinegar
½ tbsp Worcestershire sauce
8 oz can tomato sauce
2 teaspoons tomato paste
⅓ cup water
1 chopped scallion, for garnish
Instructions
Cook the sweet potatoes by poking holes all over with a fork, then cook in microwave 7 to 10 minutes, or slow cooker low 6 to 8 hours or oven 425F about 45 minutes, or until tender.
Heat a medium skillet over medium high heat. Add the meat and steak seasoning to the pan and cook, breaking it up into small pieces. Add the onion, garlic, carrots, mushrooms and red peppers to the skillet. Reduce heat to medium and add red wine vinegar and Worcestershire sauce, cook 4 to 5 minutes. Add tomato sauce, paste and water to the skillet, stir to combine. Cover and reduce heat to simmer and cook until carrots are tender, about 15 to 20 minutes.
To serve, cut sweet potatoes open, sprinkle with a pinch of salt and top each with ½ cup of meat and scallion for garnish.
Watch the recipe video here: