Fancy Philly Cheesesteak
A classic Philly cheesesteak gets elevated with dry aged beef and Raclette -- the perfect melting cheese.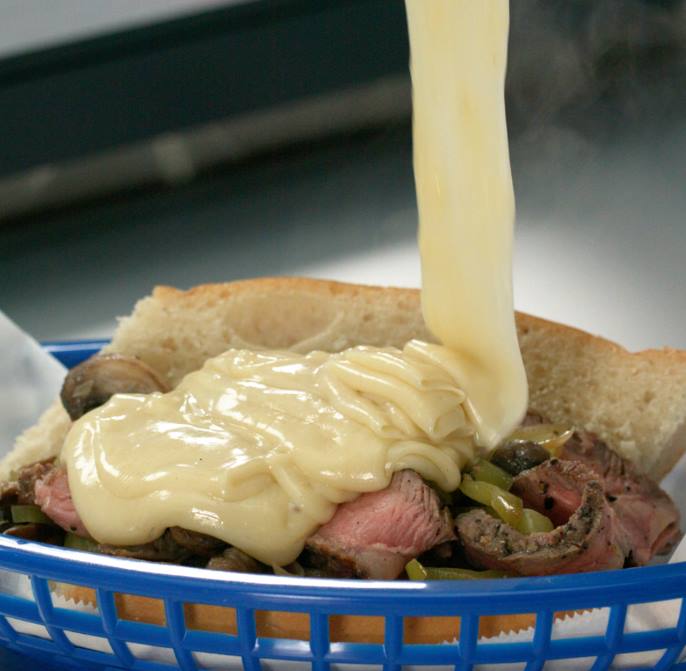 Ingredients
4 tablespoons olive oil
Two 8-ounce dry-aged prime boneless NY strip steaks
Kosher salt and freshly ground black pepper
One 8-ounce container mixed sliced mushrooms
1 medium onion, thinly sliced
2 medium Cuban or banana peppers, seeded and thinly sliced
1 pound Raclette cheese, rind removed and cubed (see Cook's Note)
4 soft hoagie rolls, split
Flaky sea salt, such as Maldon, for sprinkling
Instructions
Preheat the oven to 350 degrees F.
Heat 1 tablespoon oil in a large cast-iron skillet over medium-high heat. Sprinkle the steaks with salt and pepper and cook, flipping as needed, until browned all over and cooked to medium-rare (an internal temperature of 130 to 135 degrees F), 7 to 8 minutes. Transfer the steaks to paper towels to drain, wipe the skillet clean and return to medium heat.
Heat the remaining 3 tablespoons oil in the skillet, then add the mushrooms. Sprinkle with salt and pepper and cook, stirring, until golden brown, 4 to 5 minutes. Add the onion and peppers, sprinkle with salt and pepper and cook, stirring, until lightly charred and soft, 7 to 8 minutes. Transfer to a bowl.
Wipe out the skillet and sprinkle the cheese in it. Warm in the oven until melted, about 3 minutes.
Meanwhile, divide the onions and mushrooms among the rolls. Very thinly slice the steaks and them divide among the rolls. Evenly pour some of the cheese over each roll. Sprinkle with flaky sea salt.
We got fancy in honor of tonight's new #GreatFoodTruckRace! Tune in @ 9|8c.

Posted by Food Network on Sunday, August 27, 2017