Ossobuco With Polenta
Few dinner meals are as rich or succulent as this melt in your mouth ossobuco served on a bed of polenta.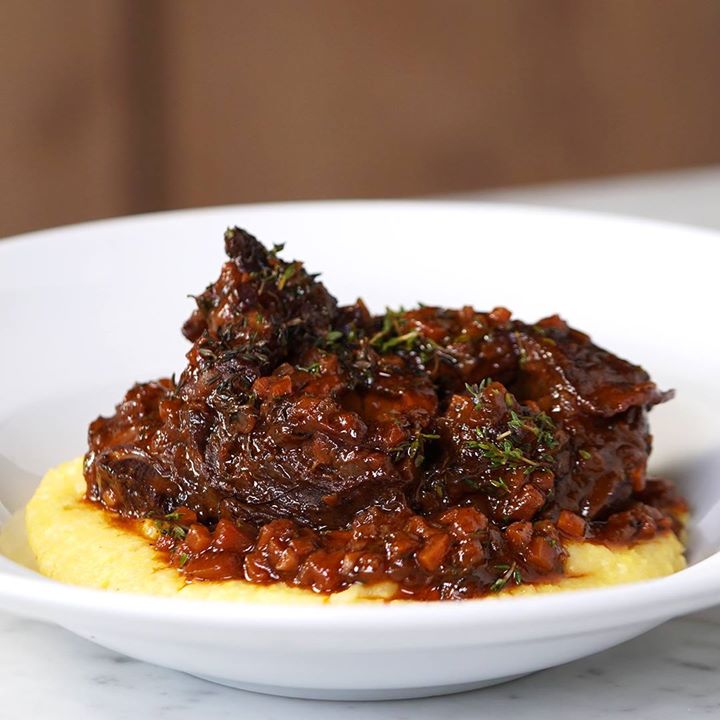 Ingredients
Oil
2 ossobucos
Salt, to taste
Black pepper, to taste
1 carrot, chopped
1 onion, chopped
3 cloves garlic, minced
1 stalk celery, chopped
1 bay leaf
4 tablespoons tomato extract
1 cup dry red wine
4 cups beef broth
Thyme, to taste
2½ cups vegetable broth
¾ cup instant polenta
2 tablespoons butter
Grated Parmesan
Instructions
Season the ossobucos with salt and black pepper.
In a high-sided pan or Dutch oven over medium-high heat, add oil. Once hot, add the ossobucos and sear on all sides. Remove from pan and set aside.
Add more oil to the same pan and saute the carrot until golden. Add the onion, garlic, celery and bay leaf and saute until fragrant. Add the tomato extract, red wine and broth and stir to combine.
Return the ossobucos to the pan, cover, and let simmer for 1 hour. (If necessary, add more water.)
Add salt and thyme, then remove from heat and set aside.
In a separate high-sided pan, bring the vegetable broth to a boil. Add the polenta gradually, stirring so that it does not form pellets.
Cook for 20 minutes, continually stirring. Add a splash of water, the butter and Parmesan and mix until melted.
Place a scoop of polenta on a plate, top with ossobuco and sauce. Enjoy!
Watch the recipe video here:
Few dinner meals are as rich or succulent as this melt in your mouth ossobuco.Full Recipe: taste.md/2yAIbQN?: Tastemade Brasil

Posted by Tastemade on Friday, March 9, 2018