Meatloaf Mummy
Halloween is officially here - this utterly terrifying recipe would be a devilishly scary centrepiece to any dinner party/graveyard spread.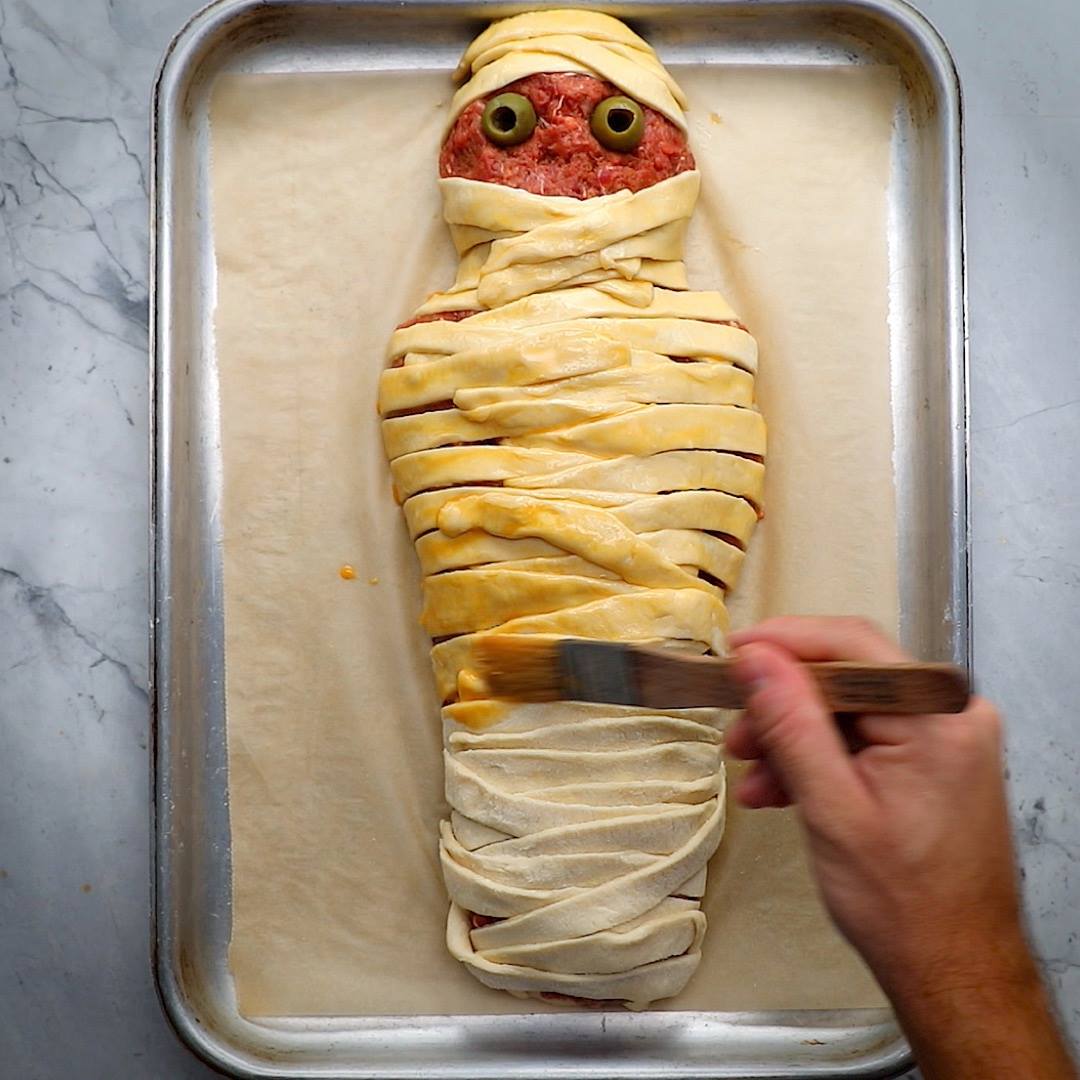 Ingredients
1 tbsp olive oil
1 large brown onion, minced
1 clove garlic, crushed
200ml beef stock
250ml ketchup
2 tbsp brown sugar
1 tsp cayenne pepper
1 tsp black pepper
1 tbsp white wine vinegar
800g beef mince
100g soft breadcrumbs
30g parmesan
1 tbsp sea salt
2 eggs
500g puff pastry
2 olives
1 egg
Instructions
To begin this spooky recipe, preheat the oven to 180°C/360°F. Fry the minced onion until it's turned golden and smells nice. Add the garlic and continue to cook out for a further minute.
Pour in beef stock and ketchup and reduce for a few minutes. Stir in sugar and seasonings and leave to cool.
Meanwhile, mix the breadcrumbs, parmesan and beef mince thoroughly with your hands. Add cooled ketchup mix and eggs and carry on mixing.
Take the puff pastry and roll out to a large rectangle. Cut into strips - these are the bandages for your terrifying mummy! Argh!
Lay the strips on a lined baking tray. Use your hands to shape the mince into a human shape and fold the bandages over, leaving a little bit of the head exposed - stick the olives in this bit for the eyes.
Brush the pastry with egg and bake for 40-50 minutes until cooked through.
Watch the recipe video here:
Meatloaf Mummy

Posted by Twisted on Friday, October 26, 2018