Parmesan Chicken
Here's how to make Ina Garten's favorite weeknight dinner.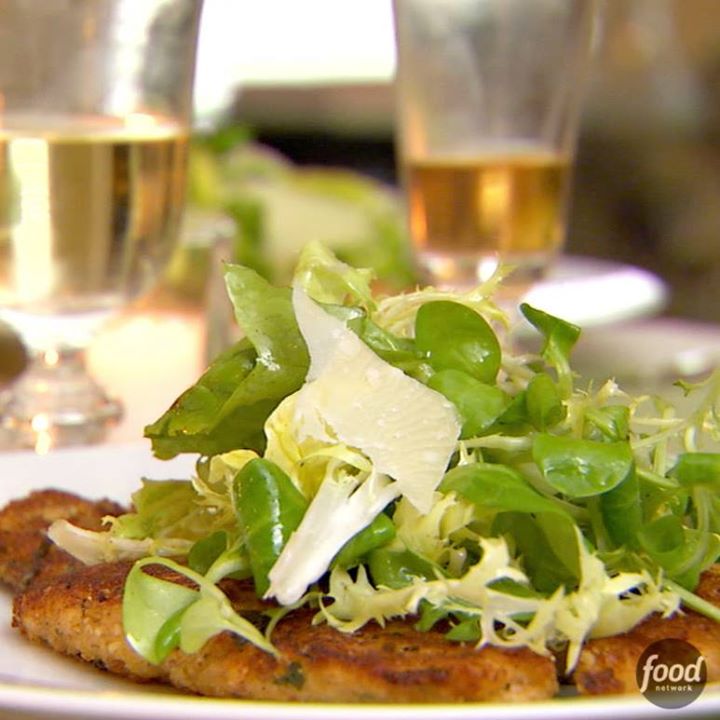 Ingredients
4 to 6 boneless, skinless chicken breasts
1 cup all-purpose flour
1 teaspoon kosher salt
½ teaspoon freshly ground black pepper
2 extra-large eggs
1 tablespoon water
1¼ cups seasoned dry bread crumbs
½ cup freshly grated Parmesan, plus extra for serving
Unsalted butter
Good olive oil
Salad greens for 6, washed and spun dry
1 recipe Lemon Vinaigrette, recipe follows
Lemon Vinaigrette:
¼ cup freshly squeezed lemon juice (2 lemons)
½ cup good olive oil
½ teaspoon kosher salt
¼ teaspoon freshly ground black pepper
Instructions
Pound the chicken breasts until they are ¼-inch thick. You can use either a meat mallet or a rolling pin.
Combine the flour, salt, and pepper on a dinner plate. On a second plate, beat the eggs with 1 tablespoon of water. On a third plate, combine the bread crumbs and ½ cup grated Parmesan. Coat the chicken breasts on both sides with the flour mixture, then dip both sides into the egg mixture and dredge both sides in the bread-crumb mixture, pressing lightly.
Heat 1 tablespoon of butter and 1 tablespoon of olive oil in a large saute pan and cook 2 or 3 chicken breasts on medium-low heat for 2 to 3 minutes on each side, until cooked through. Add more butter and oil and cook the rest of the chicken breasts. Toss the salad greens with Lemon Vinaigrette. Place a mound of salad on each hot chicken breast. Serve with extra grated Parmesan.
Lemon Vinaigrette:
In a small bowl, whisk together the lemon juice, olive oil, salt, and pepper.
Watch the recipe video here:
Here's how to make Ina Garten's favorite weeknight dinner. #BarefootContessa > Sundays at 12|11c.

Posted by Food Network on Saturday, April 7, 2018