Lemon Pudding Cake with Fresh Mixed Berries
Tyler Florence's Lemon Pudding Cakes are tangy and sweet and your new favorite dessert ?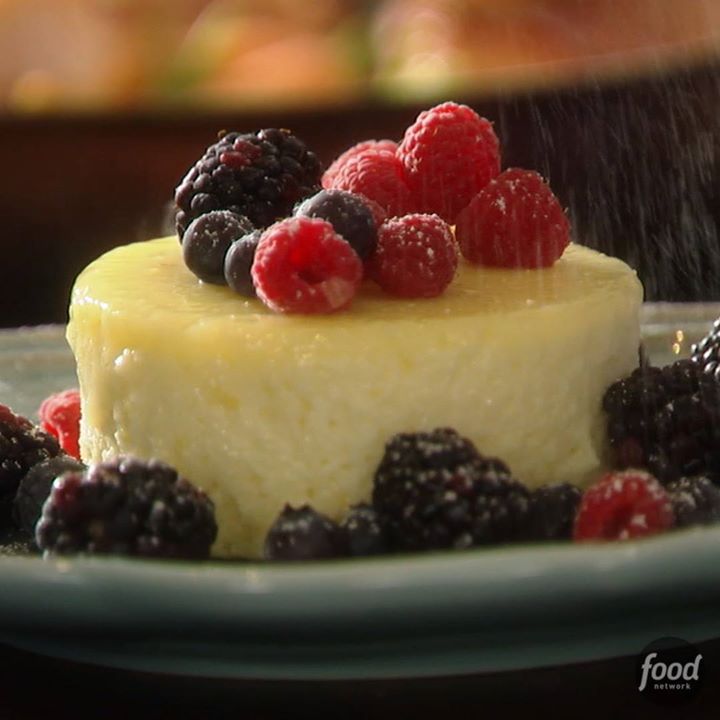 Ingredients
1 tablespoon unsalted butter
⅔ cup superfine sugar, plus more for dusting
2 eggs, separated
⅔ cup reduced fat buttermilk
2 tablespoons lemon juice
1 tablespoon lemon zest
¼ cup all-purpose flour
¼ teaspoon salt
Garnish:
1 cup fresh raspberries
1 cup fresh blueberries
1 cup fresh blackberries
2 tablespoons confectioners' sugar
Instructions
Preheat oven to 325 degrees F. Butter and lightly sugar 4 ramekins (about 1-cup size).
In a mixer, add egg yolks, buttermilk, lemon juice and lemon zest and beat until well combined. Reduce the speed to low and sift in flour, sugar and salt. Continue to mix until combined. Beat egg whites until you get stiff peaks then combine the 2 mixtures by gently folding them together, a little at a time. Divide evenly amongst ramekins then bake in a water bath - set ramekins in a roasting tray and fill with water halfway up the sides of the ramekins.
Bake for 45 minutes until the top springs back when gently pressed and the cakes have a nice golden brown color. Allow to cool slightly, then carefully invert onto a plate. Serve with fresh berries and dust with powdered sugar.
Watch the recipe video here: