Dark Chocolate, Cherry, And Date Bars
Dark Chocolate, Cherry, And Date Bars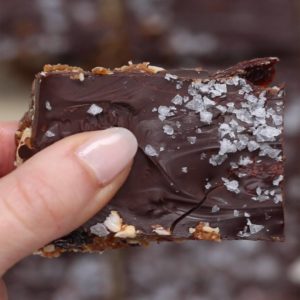 Ingredients
1 ½ cups medjool date, pitted (255 g)
½ cup almond butter (120 g)
1 tablespoon coconut oil, plus 1½ teaspoons, melted
1 cup brown ri, puffed, or puffed quinoa (200 g)
1 cup dried cherry (125 g)
⅓ cup almond, chopped (45 g)
¼ cup water (60 mL)
3 oz dark chocolate, coarsely chopped (85 g)
1 teaspoon flaky sea salt
Instructions
Line an 8-inch (20 cm) square pan with parchment paper.
In a food processor, combine the dates, almond butter, and coconut oil. Process until well combined, about 30 seconds.
Add the puffed rice, cherries, and almonds and pulse 5-6 times—just enough so that everything is well incorporated.
Transfer the mixture to the prepared pan and press into an even layer about ½ inch (1 ¼ cm) thick. Freeze for 15 minutes, until set.
Meanwhile, pour the water into a small saucepan. Place a heatproof glass or metal bowl over the saucepan, making sure the water is not touching the bottom. Bring the water to a simmer, then add the chocolate to the warm bowl and let it melt, stirring slowly. Remove the bowl from the heat as soon as the chocolate is melted and smooth.
Pour the melted chocolate over the date and cherry mixture and spread evenly with a spatula. Sprinkle with flaky salt. Return the pan to the freezer for another 20 minutes.
Once set, cut into 16 bars.
Enjoy!
Watch the recipe video here:
Salty sweet goodness, perfect for any time of day. Recipe: tasty.co/recipe/dark-chocolate-cherry-and-date-barsServe…

Posted by Tasty on Tuesday, April 23, 2019