This Single-Serving Mason Jar Monkey Bread Will Be Loved by the Whole Family
Monkey bread is one of my family's treats - you can mix it up to make just about any kind you like. But...have you ever made Mason Jar Monkey Bread? Yes, single-serving sized monkey bread is now available in a portable mason jar! Clean out those mini mason jars in the cupboard, bake up some biscuits and top it off with yummy frosting...this is the perfect treat for a party!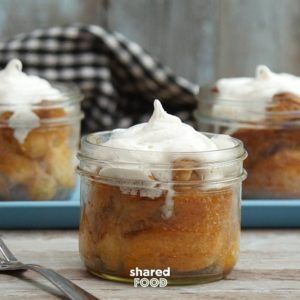 Ingredients
2 tubes refrigerated biscuit dough
½ cup sugar
1 tablespoon cinnamon
½ cup butter, melted
Frosting
Instructions
Preheat oven to 400 degrees.
Begin by cleaning out 8 small oven-safe mason jars. Prepare each with a generous spritz of nonstick spray.
Separate the biscuits and cut each into four pieces, placing the pieces in a medium mixing bowl.
Add sugar, cinnamon, and melted butter to the mixing bowl and stir together until the pieces of dough are evenly coated.
Divide the coated biscuit pieces among the prepared mason jars.
Bake 18-20 minutes, or until biscuit pieces are fully cooked and tops are golden brown.
Allow to cool slightly, then top with frosting. Serve warm and enjoy!
Watch the recipe video here: