Giant Crunchy Taco Wrap
We took a fast-food favorite and made it way (way!) bigger. And since it's stuffed delicious layers of beef, cheese, crunch and sour cream, you'll be glad it's large enough to share.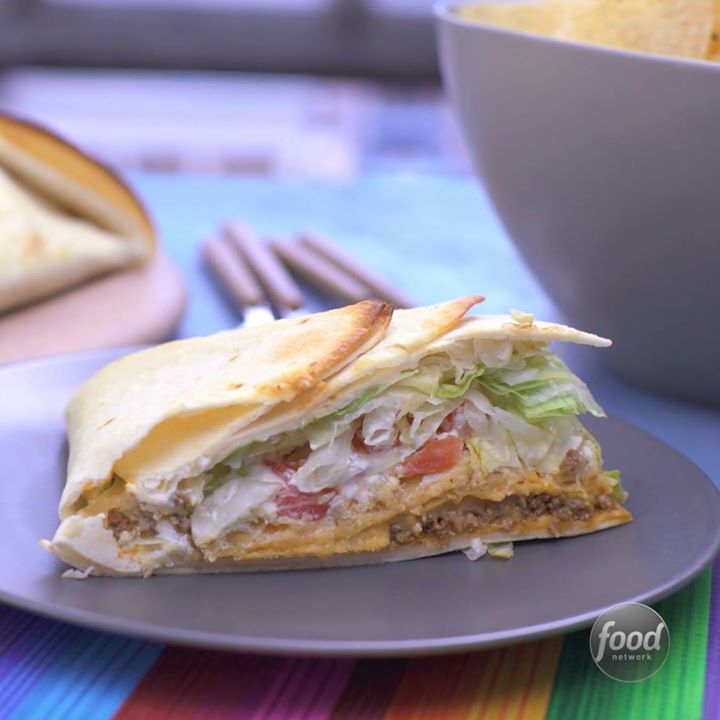 Ingredients
1 pound ground beef
One 1-ounce package taco seasoning
1 cup jarred cheese sauce
Seven 12-inch flour tortillas
4 tostada rounds
1 cup sour cream
½ head iceberg lettuce, shredded (about 4 cups)
1 plum tomato, diced
Canola oil, for brushing
Hot sauce, for serving, optional
Instructions
Put a rimmed baking sheet in the oven and preheat the oven to 450 degrees F.
Cook the ground beef with the taco seasoning according to the package instructions on the taco seasoning. Set aside until ready to use.
Meanwhile, in a microwave-safe bowl, heat the cheese sauce in the microwave in 30-second intervals until warm and pourable.
On a work surface, lay out 5 flour tortillas in a circle, overlapping slightly. Add a tortilla to the middle, on top of the others. Spread the ground beef evenly over the center tortilla. Pour the cheese onto the beef (it's okay if it's not completely covered). Cover the cheese with a layer of 4 tostada rounds. Press them down, breaking them a little, to make a flat layer. Spread the sour cream in an even layer over the tostadas. Sprinkle the lettuce over the top of the sour cream, then sprinkle with the tomatoes. Add the final tortilla over the tomato. Fold the sides of the tortillas up and over to wrap around the layers. The top should be covered in overlapping folds. Press the wrap down so that it is even and not domed. Brush the top with canola oil.
Remove the rimmed baking sheet from the oven. Brush the baking sheet with canola oil, then carefully transfer the wrap to the baking sheet meat-side down. Bake immediately until the top is golden brown, 4 to 5 minutes.
Invert the crunch wrap onto a serving platter or cutting board. Cut into wedges and serve with hot sauce if using.
Watch the recipe video here: