Taco Tomatoes
These are the prettiest low-carb tacos you'll ever see.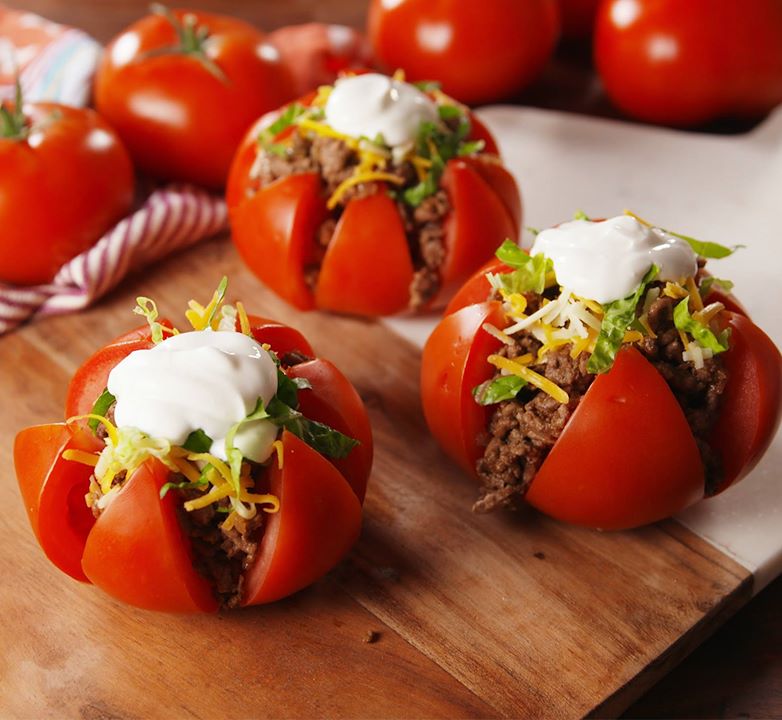 Ingredients
4 tomatoes
1 tbsp. extra-virgin olive oil
1 medium onion, chopped
1 lb. ground beef
1 packet taco seasoning
kosher salt
Freshly ground black pepper
⅔ c. shredded Mexican cheese
½ c. shredded iceberg lettuce
½ c. sour cream
Instructions
In a medium skillet over medium heat, heat oil. Add onion and cook until tender, about 5 minutes. Add ground beef and taco seasoning, breaking up the meat with a wooden spoon. Season with salt and pepper, and cook until the beef is no longer pink, about 6 minutes. Drain fat and set aside.
Flip tomatoes so they are stem-side down. Cut the tomatoes into six wedges, being careful to not cut completely through the tomato. Carefully spread open the wedges.
Divide taco meat evenly among the tomatoes, then top each with cheese, lettuce, and sour cream. Serve.
Watch the recipe video here:
Taco Tomatoes make cutting carbs SO easy. Full recipe: http://dlsh.it/NoZvHhR

Posted by Delish on Monday, October 9, 2017