Fruit Salad with Limoncello
Leave it to Ina Garten to make fruit salad a transcendent experience.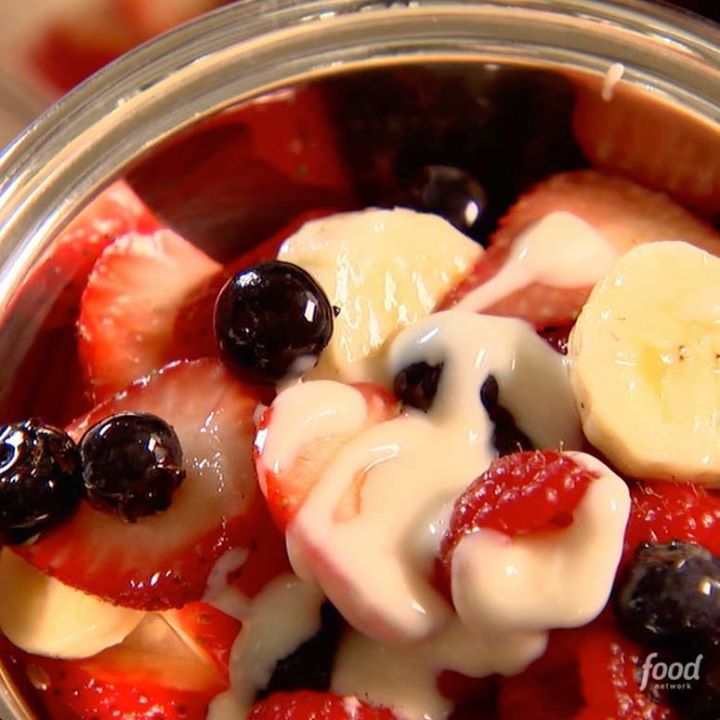 Ingredients
7 ounces Greek yogurt (recommended: Fage Total)
⅓ cup good bottled lemon curd
1 tablespoon honey
¼ teaspoon pure vanilla extract
2 cups sliced strawberries (1 pint)
1 cup raspberries (1/2 pint)
1 cup blueberries (1/2 pint)
2 tablespoons sugar
3 tablespoons limoncello liqueur
1 banana, sliced
Fresh mint springs
Instructions
For the lemon yogurt topping, whisk together the yogurt, lemon curd, honey, and vanilla and set aside at room temperature.
For the fruit salad, carefully toss together the strawberries, raspberries, blueberries, sugar, and limoncello. Allow them to stand at room temperature for about 5 minutes to let the berries macerate with the sugar and liqueur. Gently fold the banana into the mixture.
Serve bowls of fruit with a dollop of lemon yogurt on top. Top each with a sprig of fresh mint.
Watch the recipe video here:
Leave it to Ina Garten to make fruit salad a transcendent experience.#BarefootContessa > Sundays at 12|11c

Posted by Food Network on Saturday, March 17, 2018