Perfect Pumpkin Cakes
Perfect Pumpkin Cakes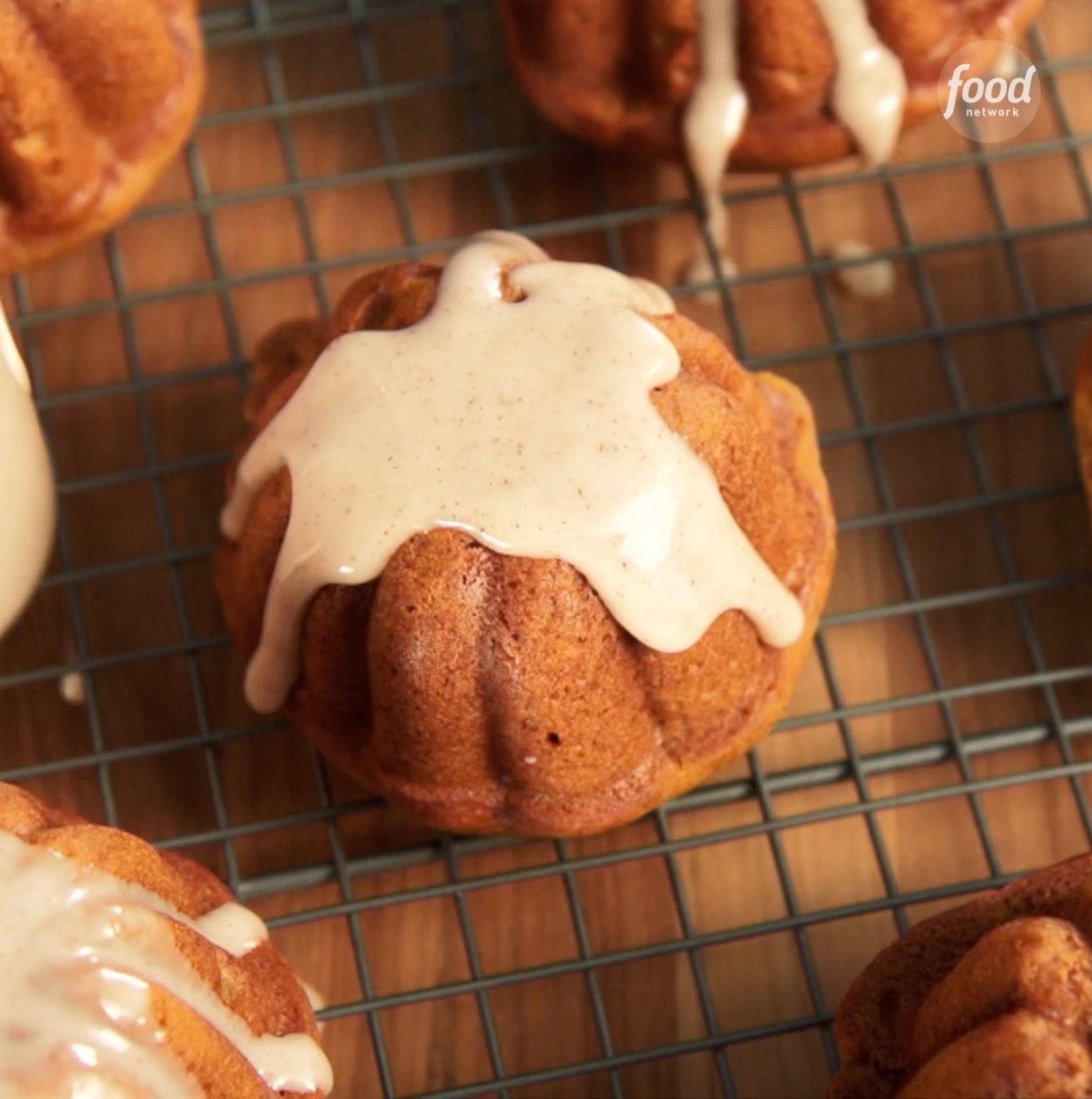 Ingredients
Cakes:
1 medium sugar pumpkin (2 pounds)
2 tablespoons olive oil
Nonstick spray, for greasing tin
4 large eggs
1½ cups brown sugar
1 cup canola oil
2 teaspoons baking powder
2 teaspoons ground cinnamon
1 teaspoon baking soda
½ teaspoon ground clove
½ teaspoon ground nutmeg
2 cups all-purpose flour
Glaze:
1 cup powdered sugar
¼ teaspoon ground cinnamon
Instructions
For the cakes:
Preheat the oven to 350 degrees F. Line a rimmed baking sheet with parchment paper.
Cut off the stem end from the pumpkin to create a flat surface. Set the pumpkin cut-side down, slice it vertically in half and scoop out the seeds. Lightly oil the pumpkin with the olive oil. Set the pumpkin halves flat on the baking sheet and roast until easily pricked with a fork, 45 minutes to 1 hour. Let cool for at least 10 minutes before scooping out the flesh. Transfer the pumpkin flesh to a food processor and puree until completely smooth. Measure out 2 cups of the puree. Reserve the remainder for another use.
Lightly grease or line a 12-cup muffin tin. In a large bowl combine the pumpkin puree and eggs, and mix together. Next, add the brown sugar, canola oil, baking powder, cinnamon, baking soda, clove and nutmeg, and mix together. Add the flour and slowly beat it into the mixture.
Pour the batter into the prepared muffin tin and bake until a cake tester comes out clean, about 35 minutes. Allow to cool slightly before removing the cakes from the tin.
For the glaze:
In a bowl, combine the powdered sugar, cinnamon and 1 to 2 tablespoons water, and mix thoroughly. Brush or drizzle the glaze onto the cakes.
Watch the recipe video here: