Apple Tater Tots
Apple Tater Tots recipe.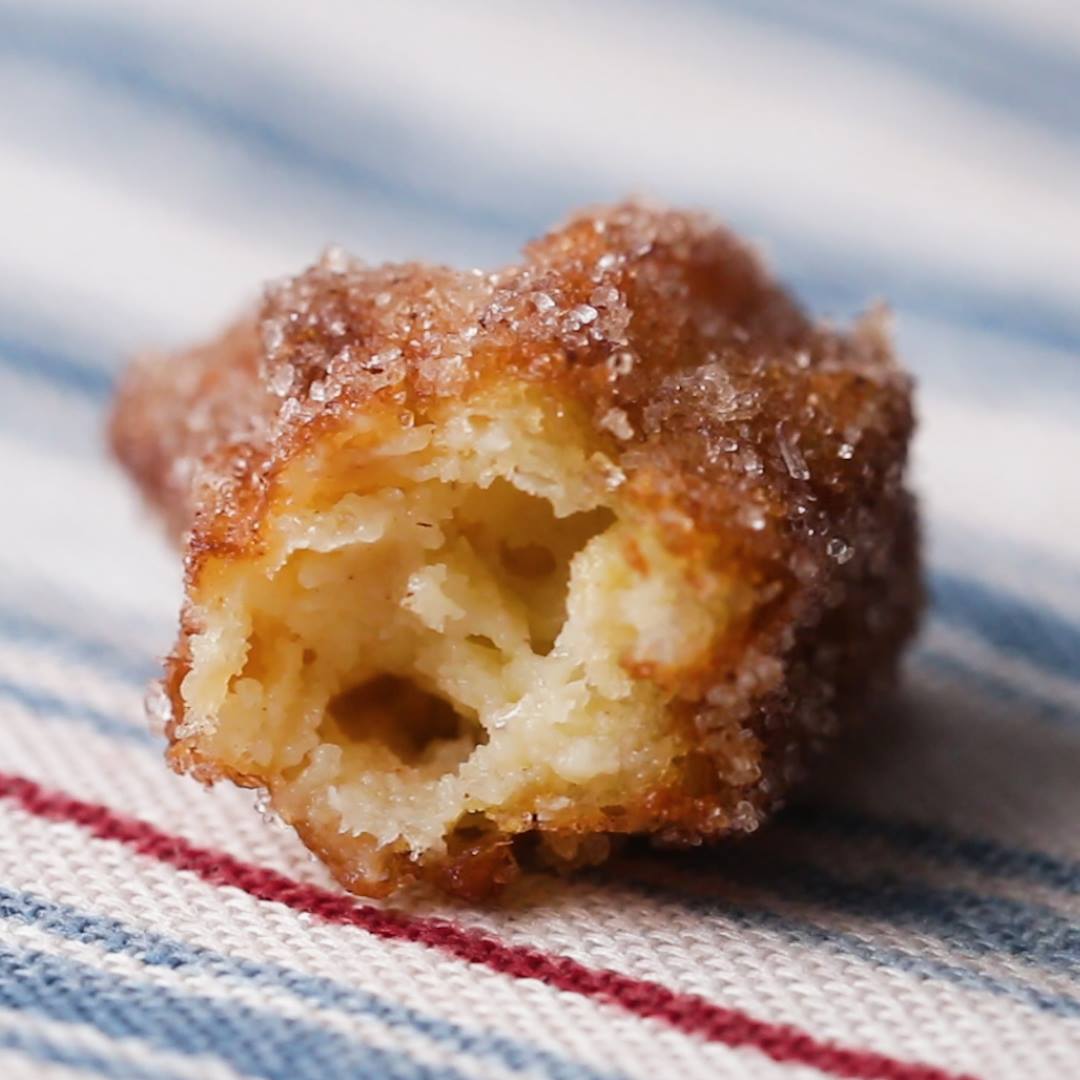 Ingredients
2 granny smith apples
lemon water, to prevent apples from browning
2 tablespoons sugar
¼ teaspoon cinnamon
¼ cup unsalted butter, ½ stick (55 g)
2 tablespoons brown sugar
½ teaspoon salt
1 cup water (240 mL)
1 cup all-purpose flour (125 g)
4 large eggs
oil, for frying
COATING
¼ cup sugar (50 g)
1 teaspoon cinnamon
SPECIAL EQUIPMENT
1 piping bag, with a large star tip or large round tip
Instructions
Peel the apples and soak them in a medium bowl filled with lemon water to keep then from browning. Using a cheese grater, grate the apples.
In another medium bowl, combine the grated apples and sprinkle with sugar and cinnamon. Stir to coat well and set aside.
Make the churro dough: In a medium saucepan over high heat, combine the butter, brown sugar, salt, and water. Bring to a boil.
Reduce the heat to medium-low and add the flour. Using a wooden spoon, stir until the dough comes together to form a ball, about 1 minute.
Remove the pot from the heat and let cool for about 5 minutes to prevent accidentally cooking the eggs.
Add the eggs, 1 at a time, being sure to fully incorporate each egg before adding the next. Set the dough aside.
Spread a kitchen towel over a medium bowl. Transfer the grated apple to the towel and squeeze to remove moisture.
Add the grated apple to the churro dough. Mix well with wooden spoon and transfer to a piping bag with a large star tip or large round tip.
Heat the oil in a large pot until it reaches 350˚F (180˚C).
Pipe the dough into the hot oil, using scissors to cut into bite-size pieces as you squeeze. Work in batches, if necessary, so as not to overcrowd the pot. Fry the churros until golden brown and fully cooked, 2-3 minutes.
Transfer the hot churros to a medium bowl filled with cinnamon sugar and toss to coat.
Enjoy!
Watch the recipe video here:
Just when you thought tater tots couldn't be more delicious! ?FULL RECIPE: https://tasty.co/recipe/apple-tater-tots

Posted by Tasty on Sunday, October 14, 2018