Molten Mashed Potato Bites
Mashed Potatoes STUFFED with gravy (and crispy!) are the only way we're eating them from now on.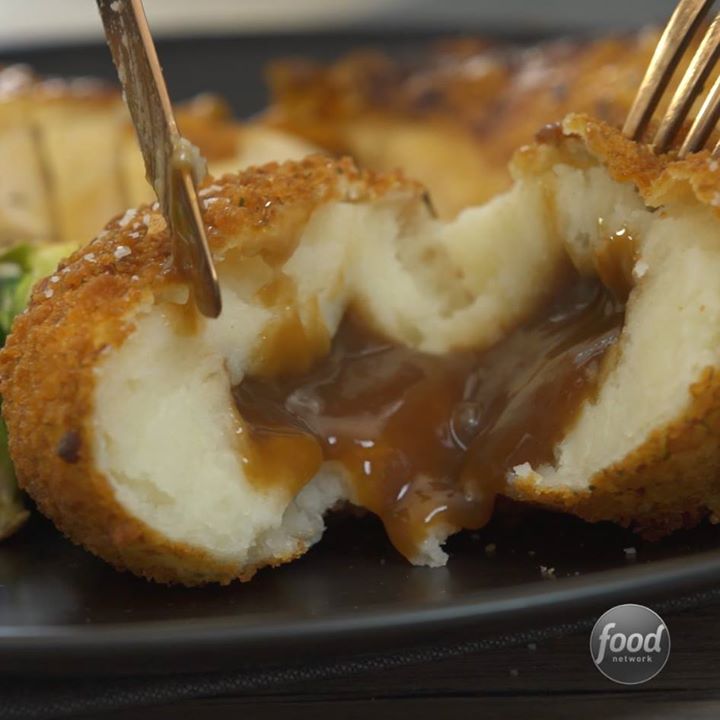 Ingredients
¾ cup prepared beef gravy
1¾ pounds russet potatoes, peeled and cut into chunks
Kosher salt
3 tablespoons unsalted butter
¼ cup heavy cream
Freshly ground black pepper
1 cup all-purpose flour
2 large eggs
3 cups stuffing mix, finely crushed
Vegetable oil, for frying
Instructions
Special equipment: an ice cube tray and deep-fry thermometer
Divide the gravy among 8 compartments of an ice cube tray (a silicone one is easiest for removal). Freeze until solid, at least 3 hours or overnight. Line a baking sheet with parchment.
For the mashed potatoes: Put the potatoes into a medium saucepan, cover with cold water and season with salt. Bring the water to a simmer and cook until the potatoes are tender, 10 to 15 minutes. Drain the potatoes and mash them or put them through a ricer while still hot. Add the butter and cream; stir until smooth. Season with salt and pepper. Shape the potatoes into 8 balls and put on the prepared baking sheet. Freeze until firm, about 30 minutes.
Pop the frozen gravy cubes out of the tay. Flatten a mashed potato ball in the palm of your hand and press a gravy cube in the center. Press the potatoes around the gravy to encase it completely and reshape into a ball. Repeat with the remaining gravy and potatoes.
Spread the flour in a shallow bowl. Add the eggs to a second shallow bowl and beat with a pinch of salt. Spread the stuffing crumbs in a third bowl. Roll each ball in the flour, then the egg, then the stuffing crumbs. Return to the baking sheet and refrigerate to firm up while you heat the oil, about 15 minutes.
Heat 2 inches of oil in a Dutch oven to 325 degrees F. Fry the croquettes in 2 batches, until deep golden brown, about 7 minutes per batch, letting the oil return to temperature in between batches. Drain on paper towels. Season with salt and serve hot.
Watch the recipe video here: