Even If You're on the Move! You Can Have Your Cake Sandwiches and Eat Them Too!
Let's face it everyone loves cake! What if you don't have a fork? What if you don't have a fork too?! Handheld cakes are the future! Rich and fluffy cakes with your favorite frosting sandwiched between all enrobed in a thin chocolate coating! You can enjoy these tasty treats on the go, so you will never be without cake!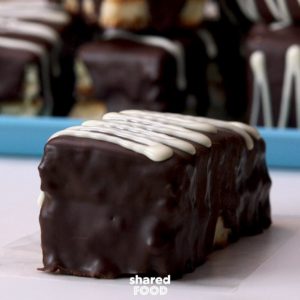 Ingredients
2 cups unsalted butter(softened)
2 cups sugar
6 eggs
1 can Sweetened Condensed Milk
1 tablespoon vanilla extract
3 cups All Purpose Flour
¼ teaspoon salt
1 tub whipped vanilla frosting
2 cup milk chocolate (melted)
1 cup white chocolate (melted)
Instructions
Preheat oven to 350.
Cream butter and sugar together with hand mixer until smooth; add eggs one at a time; add condensed milk and vanilla; add flour and salt, when completely smooth pour onto 2 parchment lined baking sheets. Bake 30 min or until toothpick comes out clean. Place on wire rack to cool.
Once cooled spread icing onto 1 cake and place other cake on top.
Cut into rectangles or any shape you want your sammies to be. Place cut sammies on wire rack and pour melted milk chocolate over them to coat. Once hardened drizzle white chocolate over the bars and serve!
Watch the recipe video here:
https://www.facebook.com/1000605023309848/posts/2090967920940214/